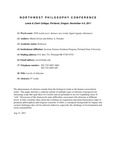 Title
Abstract
The phenomenon of altruism extends from the biological realm to the human sociocultural realm. This paper sketches a coherent outline of multiple types of altruism of progressively increasing scope that span these two realms and are grounded in an ever-expanding sense of "self." Discussion of this framework notes difficulties associated with altruisms at different levels. It links scientific ideas about the evolution of cooperation and about hierarchical order to perennial philosophical and religious concerns. It offers a conceptual background for inquiry into societal challenges that call for altruistic behavior, especially the challenge of environmental and social sustainability.

This talk was presented at the Northwest Philosophy Conference at Lewis and Clark College on Nov 4-5, 2011.
Biographical Information
Jeff Fletcher's research focuses on understanding the relationship among different theories of the evolution of altruism. He is also interested in the role human cooperation plays in addressing societal challenges such as sustainability (including environmental, social, and economic) and how understanding social dilemmas can help facilitate cooperation. His involvement in the debate over how altruism evolves has led him to an interest in better understanding (and making more explicit) the role that models play in scientific inquiry. As a teacher he is also interested in how best to bring systems ideas to students of all ages. Jeff completed an NSF International Postdoctoral Fellowship at the University of British Columbia where he did research in the Department of Zoology and taught in the Integrated Science Program. He currently teaches in both the University Studies Program and the Systems Science Graduate Program at PSU. Jeff has a BS in Biology, an MS in Computer Science, and a Ph.D. in Systems Science. Martin Zwick has been a core Systems Science faculty member since 1976. His main interests are information theoretic modeling, theoretical biology, and systems theory and philosophy. Scientifically, his focus is on applying systems theory and methodology to the natural and social sciences, especially to biomedical data analysis, the evolution of cooperation, and sustainability. Philosophically, his focus is on how systems ideas relate to classical and contemporary philosophy, how they offer a bridge between science and religion, and how they can help us understand and address societal problems.
Subjects
Altruism, Cooperation, Cooperativeness, Kin selection (Evolution), Empathy, System theory
Disciplines
Philosophy | Psychology
Persistent Identifier
https://archives.pdx.edu/ds/psu/31157
Rights
© Copyright the author(s)

IN COPYRIGHT:
http://rightsstatements.org/vocab/InC/1.0/
This Item is protected by copyright and/or related rights. You are free to use this Item in any way that is permitted by the copyright and related rights legislation that applies to your use. For other uses you need to obtain permission from the rights-holder(s).
DISCLAIMER:
The purpose of this statement is to help the public understand how this Item may be used. When there is a (non-standard) License or contract that governs re-use of the associated Item, this statement only summarizes the effects of some of its terms. It is not a License, and should not be used to license your Work. To license your own Work, use a License offered at https://creativecommons.org/
Recommended Citation
Zwick, Martin and Fletcher, Jeffrey Alan, "Levels of Altruism" (2012). Systems Science Friday Noon Seminar Series. 50.
https://archives.pdx.edu/ds/psu/31157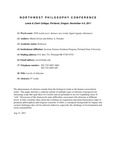 Included in
COinS