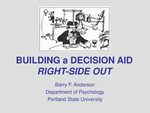 Abstract
Tools have long been available for improving decision making, yet people who have knowledge of these tools seem reluctant to use them. I consider multiple reasons why this might be so and consider multiple solutions, then present what I believe to be the world's most user-friendly decision aid, which is now nearly ready for beta testing and available at no cost at http://wisedecider.net.

Wise Decider is believed to be unique in having the following features:
A creative thinking guide and a critical thinking guide that provide context-sensitive advice for problem structuring, evaluation, and implementation.
A decision table with cells in which objective descriptions of outcomes can be represented as text and subject evaluations of these outcomes can be represented as shades of gray.
Rows in the decision table that can be re-ordered to explore different orders of preference for alternatives and columns that can be re-ordered to explore different ways of thinking about values.

When additional funding becomes available, Wise Decider is planned to have the following unique features, as well:
Automatic quantitative checks on problem structuring.
Table-coloring, where white and black represent the best and worst outcomes in the table, rather than the best and worst outcomes on each value.
Automatic sensitivity analysis.
Automatic identification of value asymmetry for identifying win-win trades in conflict resolution.
One currently unsolved problem, which I look forward to discussing, is how best to deal with risky decisions without losing user friendliness.
Biographical Information
Barry F. Anderson is Professor Emeritus, Decision Psychology, Portland State University (andersonb@pdx.edu). He earned his B.A. at Stanford University in 1957 and his Ph.D. at The Johns Hopkins University in 1963. Barry worked at the U of O from 1963-68 and at PSU from 1968-99. Courses taught include Personal Decision Making, Decision Psychology I, Decision Psychology II, Decision Psychology Laboratory, Conflict Resolution, Cognition, Bioethics, and Psychological Methods.
Subjects
Decision making -- Psychological aspects, Decision support systems, Decision making -- Social aspects, Decision making -- Computer programs
Disciplines
Categorical Data Analysis | Psychology
Persistent Identifier
https://archives.pdx.edu/ds/psu/31162
Rights
© Copyright the author(s)

IN COPYRIGHT:
http://rightsstatements.org/vocab/InC/1.0/
This Item is protected by copyright and/or related rights. You are free to use this Item in any way that is permitted by the copyright and related rights legislation that applies to your use. For other uses you need to obtain permission from the rights-holder(s).
DISCLAIMER:
The purpose of this statement is to help the public understand how this Item may be used. When there is a (non-standard) License or contract that governs re-use of the associated Item, this statement only summarizes the effects of some of its terms. It is not a License, and should not be used to license your Work. To license your own Work, use a License offered at https://creativecommons.org/
Recommended Citation
Anderson, Barry F., "Building a Decision Aid Right-side-out" (2011). Systems Science Friday Noon Seminar Series. 52.
https://archives.pdx.edu/ds/psu/31162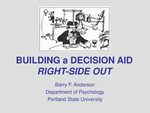 Included in
COinS