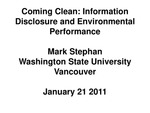 Abstract
Scholars and policymakers increasingly argue that information disclosure programs such as the Toxics Release Inventory (TRI) should be used to supplement conventional environmental regulation. Yet we lack a clear understanding of how such programs work as well as the empirical data to confirm their success in achieving environmental quality objectives. To better understand the impacts of environmental information disclosure on corporate decision making, this paper develops an analytic framework drawn from theories of risk perception and communication, individual and corporate decision making, and social capital. I examine the importance of the TRI for facility level behavior through an analysis of mediating factors such as corporate capacity to reduce toxic releases and state governmental programs focused on reducing toxic waste. Most of the emphasis of this presentation is on the heuristics used to think about the influence of information on behavior, though a brief examination of some empirical analyses are also included. The empirical analyses come from an examination of variations across states in their proportion of facilities reducing pollution divided by the total number of facilities in a given state.
Biographical Information
Mark Stephan received a Ph.D. in political science from Princeton University in the year 2000. After serving for two years as a visiting assistant professor at Georgetown University in Washington, DC, he joined the faculty at Washington State University Vancouver in the fall of 2001. He teaches courses in American politics, including classes in public policy, environmental policy administration, and democratic theory. Dr. Stephan received a dissertation grant from Resources for the Future, a Washington-based environmental think tank, in 1997-1998. During his five years in Washington, D.C., Dr. Stephan also worked for the Environmental Protection Agency twice, first in the Office of Emergency and Remedial Response (OERR) and second in the Office of Policy, Economics, and Innovation (OPEI). His research is in the areas of environmental information disclosure policy and citizen involvement in environmental decision-making. He has been published in the journals Social Science Quarterly and State and Local Government Review, among others. Working with Michael Kraft and Troy Abel, he has recently completed a book entitled Coming Clean: Information Disclosure and Environmental Performance.
Subjects
Toxics Release Inventory Program (U.S.), Disclosure of information -- Environmental aspects, Liability for environmental damages, Human information processing -- Effect on behavior, Hazardous wastes -- Governmental aspects
Disciplines
Environmental Policy | Environmental Sciences
Persistent Identifier
https://archives.pdx.edu/ds/psu/31168
Rights
© Copyright the author(s)

IN COPYRIGHT:
http://rightsstatements.org/vocab/InC/1.0/
This Item is protected by copyright and/or related rights. You are free to use this Item in any way that is permitted by the copyright and related rights legislation that applies to your use. For other uses you need to obtain permission from the rights-holder(s).
DISCLAIMER:
The purpose of this statement is to help the public understand how this Item may be used. When there is a (non-standard) License or contract that governs re-use of the associated Item, this statement only summarizes the effects of some of its terms. It is not a License, and should not be used to license your Work. To license your own Work, use a License offered at https://creativecommons.org/
Recommended Citation
Stephan, Mark, "Information Disclosure and Environmental Performance" (2011). Systems Science Friday Noon Seminar Series. 56.
https://archives.pdx.edu/ds/psu/31168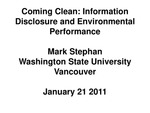 COinS