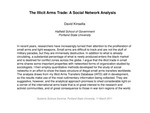 Abstract
In recent years, researchers have increasingly turned their attention to the proliferation of small arms and light weapons. Small arms are difficult to track and are not the stuff of military parades, but they are immensely destructive. In addition to what is already circulating, a substantial percentage of what is newly produced enters the black market and is destined for conflict zones across the globe. I argue that the illicit trade in small arms shares some important properties with networked forms of organization studied by sociologists. I then employ quantitative methods developed for the study of social networks in an effort to show the basic structure of illegal small arms transfers worldwide. The analysis draws from my Illicit Arms Transfers Database (IATD) still in development, so the results make use of the most rudimentary information being collected. They are suggestive, however, and the analytical approach promises to shed considerable light on a corner of the international arms trade that is of great interest to the research and activist communities, and of great consequence to those in war-torn regions of the world.
Biographical Information
David Kinsella (Ph.D. 1993, Yale University) is Professor and Chair of Political Science, and Director of the Public Affairs and Policy Ph.D. program. He teaches courses on world politics, international law and organization, and national security policy. He has served as Editor-in-Chief of International Studies Perspectives and is a former president of the International Studies Association's Midwest Region. Professor Kinsella has held faculty positions at American University and the University of Missouri, was a visiting professor at Yale and a Ralph D. Mershon postdoctoral fellow at Ohio State University. His books include World Politics: The Menu for Choice (with Bruce Russett and Harvey Starr), a leading textbook in the field, and The Morality of War: A Reader (edited with Craig L. Carr). Professor Kinsella's primary areas of research are the global arms trade, regional conflict, democratic peace, and just war theory, and his articles have appeared in a number of scholarly journals and edited volumes. His most recent research focuses on illicit arms trade networks and the implications for violent conflict and arms control.
Subjects
Firearms industry and trade -- Social aspects, Illegal arms transfers, Social sciences -- Network analysis
Disciplines
Political Science | Sociology
Persistent Identifier
https://archives.pdx.edu/ds/psu/31199
Rights
© Copyright the author(s)

IN COPYRIGHT:
http://rightsstatements.org/vocab/InC/1.0/
This Item is protected by copyright and/or related rights. You are free to use this Item in any way that is permitted by the copyright and related rights legislation that applies to your use. For other uses you need to obtain permission from the rights-holder(s).
DISCLAIMER:
The purpose of this statement is to help the public understand how this Item may be used. When there is a (non-standard) License or contract that governs re-use of the associated Item, this statement only summarizes the effects of some of its terms. It is not a License, and should not be used to license your Work. To license your own Work, use a License offered at https://creativecommons.org/
Recommended Citation
Kinsella, David Todd, "The Illicit Arms Trade: A Social Network Analysis" (2011). Systems Science Friday Noon Seminar Series. 61.
https://archives.pdx.edu/ds/psu/31199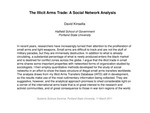 Included in
COinS