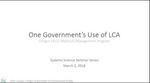 Abstract
The scale and extent of humanity's global demand, in terms of total material output from the technosphere, has been estimated at 30 trillion metric tons and rising. Extracting, manufacturing, transporting, selling, using, and disposing of these materials and products has led to vast environmental impacts. This trend and its impacts are no different in Oregon.
The Oregon Department of Environmental Quality (DEQ) is tasked with protecting the quality of Oregon's environment. And so in December 2012, to address the rising demand for and impacts of materials, Oregon's Environmental Quality Commission adopted Materials Management in Oregon: 2050 Vision and Framework for Action. The 2050 Vision imagines a future where Oregonians "produce and use materials responsibly: conserving resources, protecting the environment, [and] living well." It was informed and inspired by DEQ's prior experience with life cycle assessment (LCA), and life cycle thinking is at the core of this Vision which "seeks to reduce environmental impacts by managing materials throughout all stages of their life cycle."
To achieve the 2050 Vision, an array of new projects that employ LCA are now underway. This presentation will begin with an introduction to the concepts and methodologies of LCA and highlight a current project where Oregon DEQ is using LCA to reduce impacts of an essential building material, Concrete.
Biographical Information
Peter Canepa joined the Oregon Department of Environmental Quality in January 2017, providing Life Cycle Assessment (LCA) expertise to Oregon's Materials Management program. Peter's primary role is to support projects, primarily through the application of LCA, that advance Oregon towards achieving its 2050 vision for sustainable materials management. Prior to this role, Peter spent 8.5 years with Thinkstep. Peter holds a Master's degree in Environmental Science and Management and a Bachelor's degree in Environmental Studies.
Subjects
Oregon. Department of Environmental Quality, Life cycle assessment -- Environmental aspects, Environmental impact analysis, Life cycle assessment -- Methodology
Disciplines
Environmental Indicators and Impact Assessment | Natural Resources Management and Policy
Persistent Identifier
https://archives.pdx.edu/ds/psu/33949
Rights
© Copyright the author(s)

IN COPYRIGHT:
http://rightsstatements.org/vocab/InC/1.0/
This Item is protected by copyright and/or related rights. You are free to use this Item in any way that is permitted by the copyright and related rights legislation that applies to your use. For other uses you need to obtain permission from the rights-holder(s).
DISCLAIMER:
The purpose of this statement is to help the public understand how this Item may be used. When there is a (non-standard) License or contract that governs re-use of the associated Item, this statement only summarizes the effects of some of its terms. It is not a License, and should not be used to license your Work. To license your own Work, use a License offered at https://creativecommons.org/
Recommended Citation
Canepa, Peter, "One Government's Use of LCA: An Introduction" (2018). Systems Science Friday Noon Seminar Series. 82.
https://archives.pdx.edu/ds/psu/33949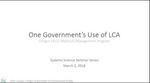 COinS