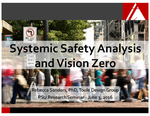 Files
Download
Download Presentation (12.4 MB)
Description
Many cities are considering pursuing Vision Zero to eliminate traffic deaths, but may not know how to move beyond addressing past crash locations toward preventing future crashes. Systemic analysis, which looks at crash patterns to determine common characteristics associated with various types of crashes, shows promise in helping cities to identify problematic locations and treatments in the hopes of preventing future crashes.
This presentation will share results from part of Seattle's Vision Zero effort – a multi-phased analysis of pedestrian and bicycle crash data aiming to help the City understand both where crashes have occurred and where they are most likely to occur in the future. Discussing the work that she conducted with colleagues at Toole Design Group and UNC-Chapel Hill, Dr. Sanders will show how the most common crash types were identified and then analyzed in conjunction with variables accounting for roadway design, land use, population, and exposure to create multivariate models for crash types of particular concern. She will discuss how the results of the various analyses have given the City of Seattle multiple tools to rank crash and future-crash locations according to different metrics.
The presentation will conclude with key takeaways for other cities looking to perform systemic analysis in the future.
Biographical Information
Rebecca Sanders is a transportation planner and the head of research for Toole Design Group (TDG). Prior to working at TDG, Rebecca worked for University of California Berkeley's Safe Transportation Research and Education Center (SafeTREC) for seven years, where she evaluated a regional "Safe Routes 2 Transit" program, worked on a Pedestrian Safety Improvement Program for Caltrans, and helped to develop Complete Streets performance measures for Caltrans. She also spent a year studying walking and biking in Oklahoma as a Research Associate for Oklahoma University's Division of Regional and City Planning. She is well known for her dissertation work examining perceived and actual traffic risk for bicyclists, roadway design preferences among cyclists and motorists, and support for cycling in the Bay Area. Rebecca is also a member of the Transportation Research Board's Bicycle Transportation Committee, the statewide California Traffic Safety Culture Committee, and the Center for Disease Control's Complete Streets Working Group. In her spare time, she enjoys exploring the City of Portland by foot and bike with her husband and two children.
Subjects
Urban transportation, Cycling -- Washington (State) -- Seattle Metropolitan Area
Disciplines
Environmental Engineering | Transportation Engineering
Persistent Identifier
http://archives.pdx.edu/ds/psu/18181
Recommended Citation
Sanders, Rebecca, "Pursuing Vision Zero in Seattle – Results of a Systemic Safety Analysis" (2016). PSU Transportation Seminars. 1.
http://archives.pdx.edu/ds/psu/18181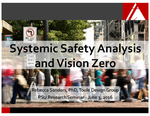 COinS