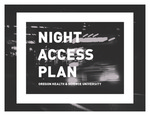 Files
Download
Download Presentation (29.9 MB)
Description
"Oregon Health & Science University Night Access Plan"
Oregon Health & Science University (OHSU) is a nationally renowned academic, research and health institution. At its current capacity, OHSU sees over 250,000 patients a year, teaches 5,000 students, employs about 16,000 people, and utilizes over 2,000 contract workers. Simply put, there are a lot of people who need to access the OHSU central campuses (Marquam Hill and South Waterfront) every day. Furthermore, because OHSU is a medical and research institution, there are large numbers of people needing to access the campuses at all hours of the day and night.
Over the last five months Hilltop Planning, a group of six PSU MURP graduate students, has been working with OHSU Transportation & Parking to shed light on issues related to night transportation and access for the central campuses. One of the primary goals of the project is to "get more cars off the hill" and figure out how to make other modes both feasible and appealing for OHSU employees. Hilltop Planning has explored recommendations related to active transportation, ride-share, parking management, transit service, internal policy change and education and awareness campaigns.
During the seminar Hilltop Planning will be talking about many of the issues related to night transportation more generally, as well as some of the key takeaways and findings from their work over these past few months.
Final report is available online at: http://archives.pdx.edu/ds/psu/17508
Biographical
Hilltop Planning comprises six Portland State University Master of Urban and Regional Planning (MURP) students focusing on transportation planning.
Subjects
Oregon Health and Science University, Commuting -- Oregon -- Portland, Commuting -- Health aspects, Transportation -- Planning
Disciplines
Transportation | Urban Studies | Urban Studies and Planning
Persistent Identifier
http://archives.pdx.edu/ds/psu/18213
Recommended Citation
Anderson, Lea, "Hilltop Planning Workshop Team" (2016). TREC Friday Seminar Series. 10.
https://pdxscholar.library.pdx.edu/trec_seminar/10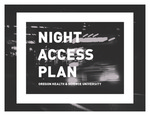 COinS