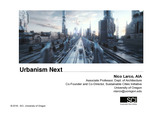 Description
Advances in technology such as the advent of autonomous vehicles (AV's), the rise of E-commerce, and the proliferation of the sharing economy are having profound effects not only on how we live, move, and spend our time in cities, but also increasingly on urban form and development itself. These new technologies are changing the ease of transport, the role of transit, and the places we spend our time. These changes will have profound effects on cities including large shifts in land use, changes in street design, a potential reduction on the need for parking, a shift on where we choose to live, and challenges for urban density, the extent of sprawl, and the vitality of urban areas.
While there has been a focused effort of research on the technological aspects of autonomous vehicles and systems themselves, there has been a shortage of systematic exploration on their secondary effects on city development, form, and design, with implications for sustainability, resiliency, equity, cost, and general livability.
SCI's Urbanism Next initiative focuses on the ramifications of changes in technology on the design and planning of our cities. This presentation will provide an overview to the initiative, research that has been done, and future objectives.
Biographical Information
Nico Larco is an associate professor of architecture at the University of Oregon and is a co-founder and co-director of the Sustainable Cities Initiative, a nationally and internationally awarded, multidisciplinary organization that focuses on sustainability issues as they relate to the built environment. Professor Larco's research focus is on sustainable urban design, active transportation, street design, and how urban design affects the sustainability of buildings. He recently developed the Sustainable Urban Design Framework that identifies sustainability goals and organizes urban design elements and approaches based on these goals and a project's scale. He is currently working on a book on the subject with Routledge that is due out in early 2017.
Subjects
Autonomous vehicles, City planning
Disciplines
Transportation | Urban Studies | Urban Studies and Planning
Persistent Identifier
http://archives.pdx.edu/ds/psu/24306
Recommended Citation
Larco, Nico, "Urbanism Next: How Technology is Changing Our City" (2017). PSU Transportation Seminars. 116.
http://archives.pdx.edu/ds/psu/24306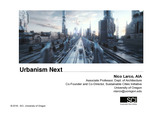 COinS