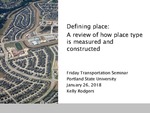 Description
Part of the Student Presentations from TRB
Researchers have been parsing which components of the built environment contribute to outcomes of interest and to what degree, particularly the effects on vehicle use and walking. Increasingly, researchers and practitioners recognize that the type of neighborhood may affect individual travel behaviors. These bundle of various land use and transportation system characteristics can be constructed as different neighborhood or place types. But not all place types are constructed with the same use, purpose, or methods. This presentation will review three classifications of place typologies to better understand their purpose and appropriate application as well as introduce an online transportation platform that will incorporate aspects of place type.
Biographical Information
Kelly Rodgers is a PhD student in urban studies at Portland State University. She is currently conducting research on the role, nature, and quality of evidence in transportation decision-making and evaluating place typologies for their ability to capture variation in travel behavior. Kelly is also the Executive Director of Streetsmart, a research synthesis, resource clearinghouse, and communication platform for transportation planning.
Subjects
Cyclists -- Oregon -- Portland -- Attitudes, Choice of transportation -- Oregon -- Portland, Perception, Urban transportation -- Oregon -- Portland
Disciplines
Transportation | Urban Studies | Urban Studies and Planning
Persistent Identifier
http://archives.pdx.edu/ds/psu/23457
Recommended Citation
Rodgers, Kelly, "Defining Place: A Review of How Place Type Is Measured and Constructed" (2018). PSU Transportation Seminars. 136.
http://archives.pdx.edu/ds/psu/23457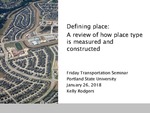 COinS