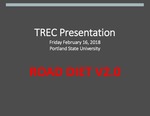 Files
Description
How can we go one step, or one lane, further than the standard road diet? Roundabouts allow a road diet to reduce the final number of lanes from three to two.
Questions arise when roundabouts are used with a road diet. What traffic volumes are supportable? Will the roundabouts fit within existing intersections? What does current guidance tell us about this approach?
Michael Williams will present his work on creating a sequel to FHWA's Road Diet Informational Guide. This work is intended to provide a feasibility determination tool for the application of this approach to existing corridors. Data from Bird Rock Boulevard in La Jolla, CA is presented as an example from which important lessons are drawn.
Biographical Information
Michael Williams has worked on active transportation issues since 2000 as an advocate, planner, and designer. He has published and presented on advisory bicycle lanes and the use of roundabouts with road diets. Michael Williams holds a BS in Computer Engineering, an MS in Electrical Engineering, an MS in Civil Engineering and holds 11 patents.
Subjects
Urban transportation -- Planning, Urban transportation -- Mathematical models
Disciplines
Transportation | Transportation Engineering | Urban Studies
Persistent Identifier
http://archives.pdx.edu/ds/psu/23725
Recommended Citation
Williams, Michael, "Road Diet V2.0 - Road Diet with Roundabouts" (2018). PSU Transportation Seminars. 142.
http://archives.pdx.edu/ds/psu/23725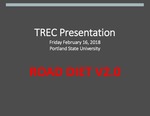 COinS