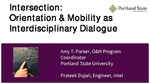 Description
Knowing where one wants to go and how to get there are essential life skills for all people. Community access and travel skills are not only important rites of passage for youth in becoming adults, they are linked to higher rates of employment and overall health. People who are blind and visually impaired (BVI) face challenges in accessing public transportation, yet studies have shown that with relevant orientation and mobility instruction, technology, and accessible design, vision loss need not preclude community travel.
Join PSU's Amy Parker and Intel's Prateek Dujari on the ways that knowledge from consumers and the field of Orientation and Mobility can positively influence design through participatory conversations. After this presentation, participants will be able to: describe the role of Orientation and Mobility (O&M) Specialists; identify features in the built environment that benefit individuals with visual impairments as well as the broader population; and identify unique needs for travelers with visual impairments in the Pacific Northwest region.
Biographical Information
Amy Parker, EdD, COMS, is an assistant professor and the coordinator of the Orientation and Mobility Program in the Special Education Department. In 2009 she completed her doctorate in special education, with an emphasis in deafblindness and a certification in orientation and mobility, through a leadership and enrichment fellowship funded by the Office of Special Education. Using participatory methodologies with community stakeholders, she has worked to design accessible multimedia learning modules for national technical assistance and personnel preparation. Her research interests include orientation and mobility for individuals with complex disabilities, communication interventions, participatory action research with people with disabilities and their families, and community-based partnerships to create social change.
Prateek Dujari is a product reliability engineer for network and data center products at Intel Corporation. He is Intel's only completely blind engineer. He joined Intel as a sighted person in 1999 and lost his sight in 2001 in a sudden unexpected manner while climbing a glaciated Oregon mountain. He has demonstrated an iron will to thrive by re-charting a successful career at Intel and a fulfilling social and recreational life. Prateek has a Master's degree in Mechanical Engineering, has nine technical publications and holds 16 patents. His proactive advocacy continues to increase accessibility of Intel's internal computer based environment providing a more even competitive field for disabled employees. Careers and Disabled magazine recognized his accomplishments in 2014 with the Employee of the Year award. He Chaired the Oregon Commission for the Blind from 2015- 2017 and was instrumental in increasing the efficiency and accountability of the Commission by standardizing measurable and quantifiable metrics. Prateek is an avid athlete as an active runner, snowboarder, hiker, climber, tandem biker, kayaker and paddle boarder.
Subjects
Deafblind people, Deafblind people -- Services for
Disciplines
Accessibility | Transportation | Urban Studies | Urban Studies and Planning
Persistent Identifier
http://archives.pdx.edu/ds/psu/25054
Recommended Citation
Parker, Amy T. and Dujari, Prateek, "Intersection: Orientation and Mobility as Interdisciplinary Conversation" (2018). PSU Transportation Seminars. 150.
http://archives.pdx.edu/ds/psu/25054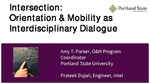 COinS