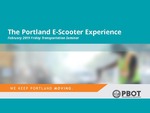 Files
Download
Download Presentation (68.0 MB)
Description
Portland's E-Scooter Pilot made national news for its proactive and data-driven approach to exploring the role of e-scooters in our transportation system. One of the first cities to implement a comprehensive data sharing agreement with e-scooter providers, Portland now has a lot of findings to share. This Friday Seminar will dive into both the data collected and the experiences of Portlanders during the pilot. We'll discuss what worked well, unexpected findings, and considerations for future new mobility pilots. Download the E-Scooter Findings Report (released Jan 2019) here.
Biographical Information
Briana Orr is the E-Scooter Pilot Project Manager and Bike Share Coordinator at the Portland Bureau of Transportation (PBOT). Briana's work centers on making active transportation convenient, fun, and normal. Prior to PBOT, Briana worked in Seattle as Cascade Bicycle Club's Communication Manager, and secured seed funding for bike share in Eugene as University of Oregon's first professional Bike Coordinator.
John MacArthur is the Sustainable Transportation Program Manager for the Transportation Research and Education Center (TREC) at Portland State University. He currently manages a complex Federal Transit Administration (FTA) grant to Develop and Test an Emergency Transportation Recovery Plan for the Portland, Oregon Region. This project requires close coordination and collaboration with a variety of public agency partners including city of Portland emergency management and transportation bureaus in addition to transit and other agencies critical to the region's emergency transportation recovery efforts. In addition, this project is creating national training program that will be tested in six cities in early 2018. MacArthur is the Principal Investigator for TREC's electric bicycle research initiatives.
Jennifer Dill is the Director of TREC and the National Institute for Transportation and Communities (NITC), Jennifer is also a professor of urban studies and planning. Currently serving as Interim Vice President of Research at Portland State University, she is an internationally cited researcher on sustainable transportation. Among her research projects are Lessons from the Green Lanes: Evaluating Protected Bike Lanes in the U.S., Understanding Types of Cyclists Nationally, Pedestrian Observation and Data Collection Curriculum and more.
Subjects
Electric scooters -- Evaluation, Technology assessment, Electric scooters -- United States -- Public opinion, Transportation -- Planning -- Portland Metro Area
Disciplines
Transportation | Urban Studies | Urban Studies and Planning
Persistent Identifier
https://archives.pdx.edu/ds/psu/27613
Recommended Citation
Orr, Briana; MacArthur, John; and Dill, Jennifer, "The Portland E-Scooter Experience" (2019). PSU Transportation Seminars. 163.
https://archives.pdx.edu/ds/psu/27613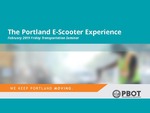 COinS