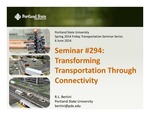 Description
The transportation system is the backbone of the United States' economy, and transportation is an essential part of everyday life for American citizens. It is essential that the transportation system continue to provide accessibility and connectivity to an ever-evolving global economy. A key way to do so is to embrace, develop and implement new technologies. One of the newest and most promising facets of transportation-related technology is in the field of connected mobility. The vision behind connected mobility is of a transportation system where vehicles, travelers, and infrastructure are all wirelessly connected with one another and able to transmit real-time data about things like weather, location, and vehicle and infrastructure status. Such a degree of connectivity could have substantial benefits for the safety, mobility, and sustainability of the domestic transportation system, including accident prevention and congestion reduction. In recent years, major strides have been made into the research and development of connected mobility technology and some field-testing has commenced, but there is a need for more attention and investment from stakeholders throughout the transportation community and beyond.
Biographical Information
Robert Bertini is a professor of Civil and Environmental Engineering at Portland State University. From 2009-2011, he served as Deputy Administrator of the Research and Innovative Technology Administration at the U.S. Department of Transportation, and from 2011-2012 he was a visiting professor at the Delft University of Technology in the Netherlands.
A registered professional engineer in Oregon and California, Bertini's experience includes work with local government, several national transportation consulting firms and the auto industry. He has taught Introduction to Civil & Environmental Engineering, Introduction to Transportation Engineering, Urban Transportation Systems, Intelligent Transportation Systems, Public Transportation, Transportation Operations, and a summer study abroad course on multimodal transport infrastructure.
Subjects
Urban transportation, Transportation -- Oregon -- Planning, Wireless communication systems -- Applications to transportation planning
Disciplines
Transportation | Urban Studies and Planning
Persistent Identifier
http://archives.pdx.edu/ds/psu/18229
Recommended Citation
Bertini, Robert L., "Seminar #294: Transforming Transportation Through Connectivity" (2014). PSU Transportation Seminars. 17.
http://archives.pdx.edu/ds/psu/18229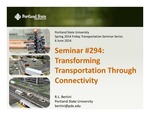 Included in
COinS