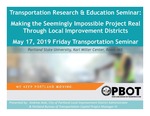 Files
Download
Download Presentation (13.7 MB)
Description
The planning process identifies community needs but often needs the creative use of financial leverage to make those projects a reality on the ground. Timing is important on Local Improvement District (LIDs), and the window of opportunity is often short.
For Portland's Bureau of Transportation, managing the public's desire for streets in good condition with room to walk and bike safely and accommodating freight movement and population growth can be a tall order. Add in the need to work with water, sewer and underground utilities, and things get complicated.
When needs exceed resources, smart strategies can help fill the gap. Andrew Aebi, Portland's LID Administrator, will discuss four LID projects which will provide better walking and biking options for residents, improve infrastructure, and support smart land use for Portland's growing population. Most importantly, he will describe how creative problem-solving and careful negotiation can successfully achieve commitments to fund the projects and improve neighborhoods.
Biographical Information
Andrew H. Aebi is the City of Portland's Local Improvement District (LID) Administrator. Mr. Aebi also fulfills a dual role as a senior capital project manager for the Portland Bureau of Transportation. He has administered $160 million in LIDs since 2001 and is currently managing 13 street, sidewalk, and stormwater projects with combined budgets in excess of $54 million, with most funding from LIDs. He has also provided finance leadership on sanitary sewer, water main, traffic signal, utility undergrounding and aerial tram improvements and assists other project managers and elected officials with the use of LID tools. He holds a Bachelor of Arts in Economics from Lewis & Clark College and a Master's in Business Administration with a concentration in finance from the University of Portland. He was formerly was a senior financial analyst for Intel Corporation in Hillsboro and served in multiple capacities for the Tri-County Metropolitan Transportation District of Oregon.
Subjects
Transportation -- Planning -- Oregon -- Portland, Transportation -- Planning -- Statistical methods
Disciplines
Transportation | Urban Studies | Urban Studies and Planning
Persistent Identifier
https://archives.pdx.edu/ds/psu/28749
Recommended Citation
Aebi, Andrew H., "Making the Seemingly Impossible Project Real through Local Improvement Districts" (2019). TREC Friday Seminar Series. 170.
https://archives.pdx.edu/ds/psu/28749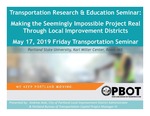 COinS