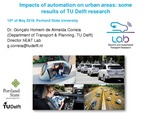 Files
Download
Download Presentation (193.9 MB)
Description
Automated driving has become a hot topic of research in different fields of science. Despite the great advancements in the vehicle technology itself, researchers are now concerned in figuring out what will be the impacts of these vehicles in life as we know it. These impacts can be rather broad from traffic safety to the economy. In this lecture, Goncalo will focus on the research that is being done at TU Delft, a leading university in automated vehicles' (AVs) impacts research, focusing on urban areas and how mobility, and even the city itself, can change with fully-automated vehicles. Goncalo Correia will be covering impacts on the value of travel time, traffic congestion, land use, among others. This is work in progress that requires the involvement of all researchers interested in the topic, thus, in that sense, the lecture is intended more to foster research questions and methods than on giving final answers, which are still a bit far away.
Biographical Information
Gonçalo H. A. Correia is an assistant professor in multi-modal urban transport networks at the Department of Transport & Planning, TU Delft. His research focuses on transport demand management through the study of integrated transportation, intelligent transport systems, travel behavior change and land use interactions. He uses mainly optimization, simulation, and theory of utility maximization for analyzing, testing and forecasting transport networks supply and demand. He is currently working on unraveling the future with automated vehicles, especially on urbanized regions. He has published 40 research papers in top scientific journals and he is part of the editorial board of several transportation science journals including transportation research part C: emerging technologies and transportation research Part E: logistics and transportation review. He is currently an associate editor of the IEEE Intelligent Transportation Systems Magazine. He has taught 13 courses on transport planning and operations research in Portugal and in the Netherlands and supervised more than 30 master thesis in transportation modeling. He advises several companies and institutions on the future of mobility and he is an international speaker on the impacts of mobility innovations.
Subjects
Local transit -- Decision making -- Statistical methods, Trip generation, Transportation -- Planning -- Statistical methods, Urban transportation -- Environmental aspects
Disciplines
Environmental Engineering | Transportation Engineering | Urban Studies
Persistent Identifier
https://archives.pdx.edu/ds/psu/28750
Recommended Citation
Correia, Gonçalo H. A., "How AV Could Shape Our Cities - Research from the Netherlands" (2019). PSU Transportation Seminars. 171.
https://archives.pdx.edu/ds/psu/28750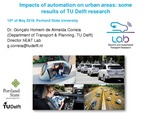 COinS