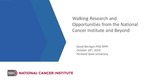 Description
Lack of physical activity is well established as a modifiable risk factor for cancer at multiple sites. Because walking (and rolling) are among the most common forms of physical activity in the United States, the Division of Cancer Control and Population Sciences of the US National Cancer Institute has supported a range of data resources, methods research and development and funding opportunities related to physical activity and cancer control across the entire cancer control continuum. In this seminar, Dr. Berrigan will share about emerging results from the 2015 National Health Interview Survey Walking and Perceptions of the Walking Environment Module, resources and data related to youth physical activity including results from the FLASHE and NHTS surveys and new tools for teaching and measurement supported by NCI. Together these materials will help expand transportation researcher and practitioner knowledge of links between physical activity and cancer as well a variety of research results and resources.
Biographical Information
David Berrigan, Ph.D., M.P.H., has been a biologist in the Division of Cancer Control and Population Sciences since 2003. He joined the Health Behaviors Research Branch (HBRB) in 2015. Previously, he served as a Cancer Prevention Fellow with funding from the Division of Cancer Prevention from 1999-2003. Before coming to NCI, he was a postdoctoral fellow and lecturer at the University of Washington and at La Trobe University in Melbourne, Australia, with funding from the National Science Foundation and USDA.
Subjects
Exercise -- Health aspects, Health behavior, Cancer Control Program (National Cancer Institute), National Health Interview Survey (U.S.)
Disciplines
Transportation | Urban Studies and Planning
Persistent Identifier
https://archives.pdx.edu/ds/psu/30311
Recommended Citation
Berrigan, David, "Walking Research and Opportunities from the National Cancer Institute" (2019). PSU Transportation Seminars. 178.
https://archives.pdx.edu/ds/psu/30311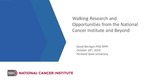 Included in
COinS