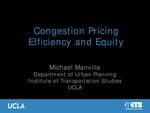 Description
Congestion pricing is effective, and efficient, but is it fair? One of the biggest concerns surrounding dynamic road charges is that they will harm low-income people. This seminar examines the equity implications of congestion charging, and argues that road pricing can satisfy the demands of both equity and efficiency.
Biographical Information
Michael Manville is Associate Professor of Urban Planning at UCLA's Luskin School of Public Affairs. He is a faculty affiliate of UCLA's Institute of Transportation Studies, and its Lewis Center for Regional Policy Studies. Both his research and teaching focus on the relationships between transportation and land use, and on local public finance. Much of his research concerns the tendency of local governments to hide the costs of driving in the property market, through land use restrictions intended to fight traffic congestion. These land use laws only sometimes reduce congestion, and can profoundly influence the supply and price of housing. Dr. Manville's research has been published in journals of planning, economics, urban studies, and sociology. He has received research funding from University Transportation Centers, from the John Randolph Haynes Foundation, and the TransitCenter, among others. He has consulted for developers, environmental groups, local governments, and the United Nations. Dr. Manville has an MA and PhD in Urban Planning, both from UCLA Luskin. Prior to joining Luskin as a faculty member, he was Assistant Professor of City and Regional Planning at Cornell University.
Subjects
Congestion pricing -- Evaluation, Traffic congestion -- Mathematical models, Congestion pricing -- Effects on the poor, Equity, Transportation -- Social aspects
Disciplines
Transportation
Persistent Identifier
https://archives.pdx.edu/ds/psu/30310
Recommended Citation
Manville, Michael, "Congestion Pricing Efficiency and Equity" (2019). PSU Transportation Seminars. 179.
https://archives.pdx.edu/ds/psu/30310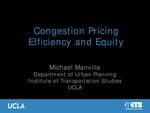 Included in
COinS