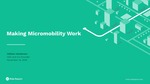 Files
Download
Download Presentation (22.3 MB)
Description
It has been more than two years since shared scooters first appeared in Santa Monica, California and more than four years since the first dockless bikeshare bikes appeared in China. As shared micromobility has experimented in its deployment and operations across the globe, cities have also been experimenting with ways to regulate and manage this phenomenon in a way that best achieves public outcomes. But how do we best protect individual rights' while still protecting the right-of-way? This seminar will discuss experiences from cities with micromobility programs and considerations for agency staff and elected officials when launching and overseeing a program, including: data sharing and privacy, goal setting, approval approach, equity targets, caps, fees, safety, and approaches for minimizing negative impacts.
Biographical Information
William Henderson, CEO, Ride Report
William Henderson is the Chief Executive Officer and co-founder of Ride Report, a tool that helps cities manage micromobility. Ride Report empowers cities to bring new, clean forms of transportation to life. The company handles data for cities and operators around the world. Henderson also co-founded Business for a Better Portland (BBPDX) and Knock Software, Inc.
Subjects
Transportation -- Environmental aspects, Transportation -- Social aspects, Bicycle sharing programs -- Management, Transportation -- Planning, Electric scooters
Disciplines
Transportation | Urban Studies and Planning
Persistent Identifier
https://archives.pdx.edu/ds/psu/31190
Recommended Citation
Henderson, William, "From Confrontation to Partnership: City Regulation of Micromobility" (2019). PSU Transportation Seminars. 182.
https://archives.pdx.edu/ds/psu/31190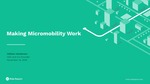 Included in
COinS