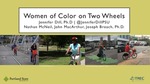 Description
This seminar includes two presentations: Bicycling and Bikeshare Among Women of Color in Three U.S. Cities: Barriers and Opportunities, by Jennifer Dill and Adaptive Bikeshare: Expanding Bikeshare to People with Disabilities and Older Adults, by John MacArthur and Nathan McNeil.
Bicycling and Bikeshare Among Women of Color in Three U.S. Cities: Barriers and Opportunities:
Bike share programs in the U.S. have been criticized because they have been used more by men, younger, white, and higher-income people. At the same time, most large U.S. cities experience a gender gap in bicycling. This presentation examines the barriers to and motivations for both bicycling and bike share use among women of color, using survey data from neighborhoods in Philadelphia, PA, Brooklyn, NY, and Chicago, IL. It will examine differences between women of color, white women, white men, and men of color to understand motivations and barriers. The research found that women of color were significantly less likely to ride a bicycle for transportation in the past week, have ridden a bicycle at all in the past 12 months, know how to ride a bicycle, be interested in bicycling more, have used bikeshare, or be a member of bikeshare compared to most groups. The differences persisted even after controlling for income, age, education, bicycle ownership, and knowing how to ride a bike, confirming the need to consider the intersection of race and gender when examining bicycling behavior. The presentation will examine the factors that help explain these differences and the opportunities for practice.
Adaptive Bikeshare: Expanding Bikeshare to People with Disabilities and Older Adults
Bike share systems are expanding efforts to be more equitable and accessible to everyone by offering adaptive bicycle options to people who might otherwise be unable to ride. These systems tend to range from the inclusion of electric bikes and standard trikes into the existing systems to offering a more full-range of adaptive bicycle options for use at rental location. This presentation will document the current state of adaptive bike share as a concept and as a programmatic activity using several diverse primary data sources. Surveys of residents living in several low-income communities of color are used to explore the potential need for adaptive bike share options in urban locations. A national survey of cities and bike share operators is used to document the prevalence and basic models of adaptive bike share programming currently in place. Interviews conducted with bike share representatives in select cities with adaptive bike share programs provide context and details on how specific programs operate. Finally, interviews with adaptive bike share participants in Portland help to illuminate users' experiences, including the perceived value and potential improvements for adaptive bike share. We found that there is an underserved market of people who do not feel they can use existing bike share systems because of some type of physical limitation but that reaching and serving those people presents substantial hurdles. Current bike share systems are slowly exploring the right way to include accessible options but are challenged by cost, resources, bicycle types, program implementation and infrastructure.
Biographical Information
Jennifer Dill is a professor of Urban Studies and Planning at Portland State University, and director of TREC, PSU's Transportation Research and Education Center. She is also the director of the National Institute for Transportation and Communities (NITC). Her research aims to understand people's everyday travel decisions, with a focus on bicycling, walking, and transit. Dr. Dill is an internationally cited researcher on sustainable transportation. Among her research projects are Lessons from the Green Lanes: Evaluating Protected Bike Lanes in the U.S., Understanding Types of Cyclists Nationally, Pedestrian Observation and Data Collection Curriculum and more.
John MacArthur is the Principal Investigator for TREC's electric bicycle research initiatives. His research also includes low-/no-emission vehicle infrastructure in Portland metro, as well as a climate change impact assessment for surface transportation in the Pacific Northwest and Alaska. Before joining the TREC staff, John was the Context Sensitive and Sustainable Solutions Program Manager for the Oregon Department of Transportation's OTIA III State Bridge Delivery Program.
Subjects
Bicycle sharing programs -- United States, Cycling -- Social aspects, Cyclists -- Attitudes, Women cyclists -- Attitudes, Minorities -- Attitudes
Disciplines
Transportation
Persistent Identifier
https://archives.pdx.edu/ds/psu/30926
Recommended Citation
Dill, Jennifer; MacArthur, John; and McNeil, Nathan, "Bicycling Toward Equity: Opportunities, Barriers, and Policies for Vulnerable Groups" (2020). PSU Transportation Seminars. 185.
https://archives.pdx.edu/ds/psu/30926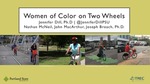 Included in
COinS