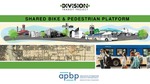 Description
This seminar is brought to you by the Oregon chapter of the Association of Pedestrian and Bicycle Professionals (APBP), with support from TREC at Portland State.
Transit stops and stations are a confluence of complementary and competing activities - pedestrians accessing businesses, passengers boarding and alighting, and bicyclists zipping through to their destinations. People are moving in different directions, at different speeds, and need to be able to navigate this space safely and comfortably. A common point of conflict is the bus/bicycle interaction when a transit stop is adjacent to a bike lane. Designs for integrating pedestrian and bicycle facilities at high demand transit stops have advanced over the last decade, but often involve costly infrastructure which require generous right-of-way space, significant streetscape reconfiguration and/or expensive property acquisitions.
TriMet, in coordination with Alta Planning and Design, WSP, PIVOT Architecture and regional stakeholders developed a new station area typology for constrained locations along the Division Street corridor in Portland, OR as a part of the Division Transit Project (DTP) - the city's first Bus Rapid Transit project. The team's goal was to develop a concept that could be tested and applied across the corridor, connecting sidewalks and protected bike lanes, in an intuitive, safe station environment.
In the first session of the Spring term, Jesse Stemmler of TriMet and Derek Abe of Alta Planning + Design will be kicking off a joint presentation with the Oregon Chapter of the Association of Bicycle and Pedestrian Professionals (APBP) on their design process and outcomes toward the development of the new integrated station area typology.
Biographical Information
Derek Abe, Alta Planning + Design
Derek Abe is a transportation planner and project manager with a background in mechanical engineering, environmental science, and urban planning. At Alta Planning + Design, he leads research and data analysis, policy analysis, network planning, and facility design on an array of projects including bicycle and pedestrian master plans,transit access plans, design standards and guidelines, and experimental facility studies. He is a leader in Alta's analytics, facility design, new mobility, and tactical urbanism service areas.
Jesse Stemmler, TriMet Jesse Stemmler is the Lead Urban Designer for TriMet's Division Transit Project – a new, high capacity bus project for the region that connects downtown Portland, Oregon to the City of Gresham. In this role, Jesse leads a team of urban design professionals in the design and development of enhanced transit station environments throughout the Division Street corridor.
Subjects
Transit oriented development -- Planning, Urban transportation policy -- Oregon -- Portland, Transportation -- Planning -- Oregon -- Portland, Local transit, Local transit accessibility
Disciplines
Transportation | Urban Studies | Urban Studies and Planning
Persistent Identifier
https://archives.pdx.edu/ds/psu/32699
Recommended Citation
Abe, Derek and Stemmier, Jesse, "Bus-Bike Designs for the Division Transit Project" (2020). PSU Transportation Seminars. 188.
https://archives.pdx.edu/ds/psu/32699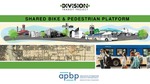 COinS