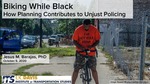 Files
Download
Download Presentation (78.6 MB)
Description
Neighborhoods of color tend to be the most dangerous places for cyclists and other road users, a result in part of historic disinvestment and failure to provide basic infrastructure. Safety efforts to reduce crashes, like Vision Zero, have called for both increased investment, a qualified benefit for disenfranchised communities, and increased traffic enforcement, a response that is likely to place people of color in even greater harm based on extensively documented police injustice.
For more about the problems of policy and planning around 'bicycling while black,' check out a Sept 9, 2020 blog post by Jesus Barajas.
To what extent, then, do poor cycling conditions and inadequate infrastructure contribute to disparities in policing in Black and Brown neighborhoods? Using data obtained from the Chicago Police Department, I will present findings that show how street characteristics, cycling infrastructure, and neighborhood characteristics are associated with the number of citations issued for riding a bicycle on the sidewalk over the previous five years. I find evidence that fewer tickets are issued on lower-volume streets and on streets where bike facilities are provided. While the provision of bike lanes and paths do not eliminate racial disparities in policing, they do contribute to more comfortable cycling conditions and lower odds of getting a citation. I will end with a discussion how the findings inform planning and policy.
Biographical Information
Jesus M. Barajas is an Assistant Professor in the Department of Environmental Science and Policy and affiliated faculty with the Institute of Transportation Studies at UC Davis. His research focuses on mobility justice and transportation equity. His work examines the role that planning and policy contribute to access to opportunity among historically marginalized populations, with a goal of informing policy agendas that remedy injustices. He holds a PhD in City and Regional Planning from UC Berkeley.
Subjects
African American cyclists -- Illinois -- Chicago Metropolitan Area, City planning -- Illinois -- Chicago Metropolitan Area, Bicycle commuting, Urban transportation -- Social aspects, Traffic safety -- Effect of city planning on, Police-community relations
Disciplines
Transportation | Urban Studies | Urban Studies and Planning
Persistent Identifier
https://archives.pdx.edu/ds/psu/33270
Recommended Citation
Barajas, Jesus, "Biking While Black: How Planning Contributes to Unjust Policing" (2020). PSU Transportation Seminars. 194.
https://archives.pdx.edu/ds/psu/33270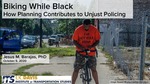 COinS