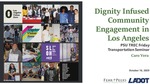 Description
In 2019, the LADOT Vision Zero Division launched the Vision Zero Dignity Infused Community Engagement (VZ DICE) strategy with the intent to transform the way the City engages with local communities. This planning process intentionally and holistically incorporates the viewpoints, lived experiences, and perspectives of those most impacted by a planning project and seeks to restore and atone for historic, systemic, and institutional injustices. A team of community partners, advocates, social scientists, artists, everyday residents, and technical experts came together to reach community residents in ways that reflect the local social, cultural, and racial/ethnic identity of a neighborhood. The strategy was purposely multifaceted involving a local street team, small business partnerships, an anti-displacement resource kit, and a ground truthing process to assess how local projects can center community needs and reflect local values. Over 18,000 residents and counting have been engaged through the project so far and LADOT continues to apply this framework to other planning projects.
Biographical Information
Caro Vera, Senior Transportation Planner, Fehr & Peers. Caro is a Transportation Planner at Fehr & Peers, a transportation planning and engineering firm devoted to creating solutions that improve communities. She specializes in bicycle and pedestrian planning, equity, and community engagement. Caro is born and raised in South Central Los Angeles and takes much of her inspiration for creating safer streets from her community's experiences biking, walking, rolling, driving, and riding public transit. She has ten years of experience in community organizing and engagement with communities of color. Caro holds a B.A. in Ethnic Studies and Chicano studies from UC Berkeley as well as a M.A. in Urban Planning from the UCLA Luskin School of Public Affairs.
Kevin Ocubillo is a planning assistant at the Los Angeles Department of Transportation (LADOT).
Subjects
City planning -- California -- Los Angeles, Political participation, Sustainable development -- California -- Los Angeles, Transportation -- Planning, Land use -- California -- Planning
Disciplines
Transportation | Urban Studies and Planning
Persistent Identifier
https://archives.pdx.edu/ds/psu/33271
Recommended Citation
Vera, Caro and Ocubillo, Kevin, "Dignity Infused Community Engagement in Los Angeles" (2020). TREC Friday Seminar Series. 195.
https://archives.pdx.edu/ds/psu/33271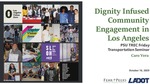 Included in
COinS