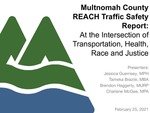 Description
This seminar will discuss how transportation agencies are in a unique position to reduce health disparities in the African American, African Immigrant & Refugee communities through sustainable policy, systems, and environmental changes. These three speakers from the Multnomah County Health Department will present the findings of their recent Crash and Safety report. They will discuss their data and methodology to connect the dots between chronic disease disparities, leading causes of death in communities, and transportation inequities as determinants to health. They will also present policy recommendations and a call to action.
Biographical Information
Tameka Brazile, Principal Investigator, Multnomah County REACH Program
Tameka has a combination of lived, learned and professional experiences as it relates to the health promotion and well-being of the community. She holds a Master of Business Administration, with a specialization in Healthcare Administration. Her work in health care includes 10 years in the private sector with Legacy Health System and 15 years and counting in the public sector with the Multnomah County Health Department. During her time with MCHD, she's worked in several programs across the life span from the cradle to the cane. Being born and raised in Portland, Tameka has a love and passion of caring for the community she grew up in and continuously seeks ways to redress our most pressing issues that lead to health equity and social justice.
Brendon Haggerty, Program Coordinator, Multnomah County Climate and Health Program
Brendon Haggerty has worked in public health for ten years focusing on the ways that the built environment and climate change influence health outcomes and disparities. He currently leads the Healthy Homes and Communities team for Multnomah County Health Department and previously served as Epidemiologist for the Oregon Health Authority Climate and Health program. Brendon holds a Master's in Urban and Regional Planning degree from Portland State University.
Charlene McGee, Program Manager, Multnomah County REACH Program
Charlene brings over 15 years of leadership working at the intersection of public health and healthcare systems to confront and change social determinants of health. She holds an executive master's in public administration from Portland State University, and a Bachelors of Science in public health, health promotion and education with a minor in community health from Oregon State University. As a Liberian-Oregonian, her experience as a survivor of the Liberian civil war and Black immigrant heavily influenced her career in health equity, health policy and program development. She works closely with community partners to elevate lived experience and community wisdom in order to advocate for systems and policy improvements, and culturally appropriate interventions to promote health.
Disciplines
Social Justice | Transportation | Urban Studies and Planning
Persistent Identifier
https://archives.pdx.edu/ds/psu/35267
Recommended Citation
Brazile, Tameka; Haggerty, Brendon; and McGee, Charlene, "Multnomah County REACH Transportation Crash and Safety Report: At the Intersection of Transportation, Health, Race and Justice" (2021). PSU Transportation Seminars. 202.
https://archives.pdx.edu/ds/psu/35267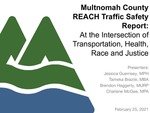 COinS