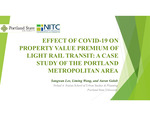 Files
Description
The COVID-19 pandemic has impacted health and transformed many aspects of our lives, such as travel behavior and residential location preference. For instance, since the outbreak, there was a sharp decline in the ridership of public transportation. Moreover, since the pandemic, a shifting preference toward suburban and exurban areas from denser urban areas like Central Business Districts has been reported. Accordingly, a question arises whether the plummeted transit ridership, alongside the anecdotal and empirical evidence that some households prefer to disperse away from the cities, could combine to transform the long-standing housing price mechanism related to transit proximity. Thus, we asked whether the preference for proximity to a light rail transit (LRT) station in residential location choice remained during the pandemic and whether/how the potentially changing preference was reflected in property value in the Portland Metropolitan Area.
Biographical Information
Sangwan Lee, Urban Studies & Planning, Portland State University
Sangwan Lee is a graduate research assistant in the Nohad A. Toulan School of Urban Studies and Planning at Portland State University. He has also served as a teaching assistant at Rutgers, The State University of New Jersey; and as an assistant research fellow in urban engineering at Chonbik National University. Sangwan is currently a P.D. student in urban studies at PSU with a focus on regional science. He earned his Masters of City and Regional Planning at Rutgers in 2019 and his Masters of Urban Engineering at Chonbuk in 2014. He also earned a BS in Architecture and Urban Engineering from Chonbuk in 2012.
Disciplines
Transportation
Persistent Identifier
ps://archives.pdx.edu/ds/psu/37002
Recommended Citation
Lee, Sangwan, "PSU Student Research from the TRB 2022 Annual Meeting: Effect of COVID-19 on Property Value Premium of Light Rail Transit" (2022). TREC Friday Seminar Series. 217.
ps://archives.pdx.edu/ds/psu/37002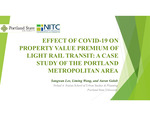 Included in
COinS