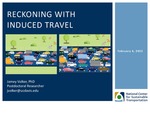 Description
Empirical research shows that expanding roadway capacity induces more driving - the so-called "induced travel" phenomenon. However, environmental impact assessments and cost-benefit analyses of roadway capacity expansion projects have historically ignored, underestimated, or misestimated this induced travel effect. As a result, they frequently overestimate the projects' potential to relieve congestion and reduce air pollution. That spurred our team at the National Center for Sustainable Transportation (UC Davis) to develop an online tool to facilitate estimation of induced vehicle travel from capacity expansion projects. This presentation will explain the induced travel phenomenon, introduce our induced travel calculator and its offshoots, and discuss how transportation impact analysis is changing.
Biographical Information
Dr. Jamey Volker is a postdoctoral researcher with the National Center for Sustainable Transportation at UC Davis. He studies transportation policy, housing policy, and land use and environmental law.
Subjects
Air pollution, Climatic changes, Highway capacity, Traffic congestion -- United States, Urban transportation, Choice of transportation, Transportation -- Planning -- Evaluation
Disciplines
Transportation | Urban Studies
Persistent Identifier
https://archives.pdx.edu/ds/psu/37045
Recommended Citation
Volker, Jamey, "Reckoning with Induced Vehicle Travel" (2022). TREC Friday Seminar Series. 219.
https://archives.pdx.edu/ds/psu/37045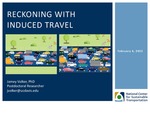 Included in
COinS