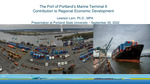 Description
Container cargo shipping service returned to the Port of Portland in Oregon in January 2020 with the regular weekly SM Line service, following more than three years of no container shipping service. Following the global supply chain changes associated with COVID -19, the number of monthly vessel calls at the Port of Portland's deep-water berth at Terminal 6 has increased regularly to 12 vessel calls in January of 2022. In March of 2022, the largest containership to transit the Columbia river – at 1,100 feet length with capacity of 8,200 containers – arrived at the Port of Portland.
The return of container cargo service to the Port of Portland has expanded the effective capacity of international freight movement to and from the Pacific Northwest region of the United States. Early indications are that the Port of Portland T6 container service has the potential to significantly contribute to regional economic growth in the Pacific Northwest region. In 2021, the Port of Portland updated its long - term container cargo forecast, which currently shows a projected compound annual growth rate (CAGR) of 2.9% in the reference case scenario and 3.9% CAGR in the high growth scenario.
Biographical Information
Lewis Lem received his Ph.D. in Transportation Planning from UCLA, with a focus on Transportation Economics and Finance. He has previously worked as a Transportation Economist with the United States Government Accountability Office (USGAO), United States Environmental Protection Agency (USEPA), the American Automobile Association (AAA) of Northern California, Nevada, and Utah. For many years, he worked as a consultant in transportation planning and economics, including at Parsons Brinkerhoff, which is now part of WSP. Lewis currently works at the Port of Portland in Portland, Oregon, where he is responsible for managing and administering transportation planning programs and federal and state infrastructure grants for the Port's multimodal transportation business units in Marine, Aviation, Industrial Lands, and Navigation.
Subjects
Port of Portland (Or.), Shipping -- Oregon -- Portland.
Disciplines
Transportation | Urban Studies and Planning
Persistent Identifier
https://archives.pdx.edu/ds/psu/38636
Recommended Citation
Lem, Lewison, "Port of Portland's Marine Terminal 6 Contribution to Regional Economic Development" (2022). TREC Friday Seminar Series. 230.
https://archives.pdx.edu/ds/psu/38636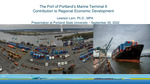 Included in
COinS