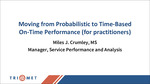 Description
On-Time Performance (OTP) is a probabilistic measure that tells the customer the likelihood that the trip they are about to take will arrive "on-time." However, this metric forces the customer to think in terms of a probability of trip timeliness and not an actual time value for how timely the trip will be. This presentation will explore a new way to examine on-time performance by quantifying the timeliness of trips. Customers can then use this information to determine which trip would be the best to take based on when they need to arrive at their destination. Using a system science approach, this new method will take into consideration the impact of service disruptions, reroutes, service failures, and other factors on the timeliness of route trips. This metric is especially important for customers who are attempting to make connections that hinge on reliable and timely travel times.
Biographical Information
Miles Crumley, MS is the Manager of Service Performance and Analysis at TriMet where he oversees internal/external reporting and data analysis for fixed route bus, light rail, and commuter rail services. Starting out as a bus operator in 2013, Miles worked in various analytical positions at the agency and his contributions informed design on Division Transit Project and A Better Red. Miles holds a graduate degree in Systems Science/Psychology and an undergraduate degree in physics and psychology from PSU.
Subjects
Tri-County Metropolita Transportation District of Oregon, Bus lines -- Oregon -- Portland Metropolitan Area
Disciplines
Transportation | Urban Studies | Urban Studies and Planning
Persistent Identifier
https://archives.pdx.edu/ds/psu/38880
Recommended Citation
Crumley, Miles James Allen, "Moving from Probabilistic to Time-Based On-Time Performance (for practitioners)" (2022). PSU Transportation Seminars. 236.
https://archives.pdx.edu/ds/psu/38880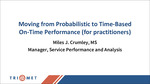 COinS