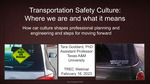 Description
Like any healthy professional community, the transportation safety community is not homogenous or without constructive conflict. The increased attention on systems thinking – most commonly known, if not necessarily well understood, under the "Vision Zero" approach – has sparked debate among engineers, planners, academics, public health professionals, advocates, and others about where our attention should be focused to reduce the epidemic of traffic violence. The built environment? Drivers? Engineers and planners? Car culture? What IS car culture? Dr. Goddard brings together her research conducted with colleagues on police crash reporting processes, NHTSA crash investigations, attitudes and effects of the language and framing around crashes, and recent examples of the "systems vs people" debate to recommend some shared definitions, research directions, and questions for practitioners, advocates, and anyone interested in reducing traffic injuries and deaths.
Biographical Information
Tara Goddard is an Assistant Professor in the Department of Landscape Architecture and Urban Planning at Texas A&M University. After earning a master's degree in Civil Engineering from UC Davis, she worked as an Associate Transportation Planner for the City of Sacramento and then served 2007-2011 as the Bicycle/Pedestrian Program Coordinator for the City of Davis, CA. Realizing she was a research geek at heart, Dr. Goddard returned to school and earned her PhD in Urban Studies at Portland State University. She joined the faculty of Texas A&M in 2017, where her research focuses on transportation safety, particularly the interactions of transportation culture, behavior, and infrastructure on differential experiences and safety outcomes for people who walk and wheel.
Disciplines
Transportation | Urban Studies | Urban Studies and Planning
Recommended Citation
Goddard, Tara Beth, "Transportation Safety Culture: Where we are and what it means" (2023). PSU Transportation Seminars. 238.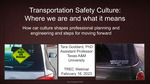 COinS