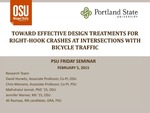 Description
The overall goal of this research was to quantify the safety performance of alternative traffic control strategies to mitigate right-turning-vehicle/bicycle collisions, often called "right-hook" crashes, at signalized intersections in Oregon.
A two stage experiment was developed in the OSU high-fidelity driving simulator to investigate the causal factors of right-hook crashes at signalized intersections with a striped bike lane and no right-turn lane, and to then identify and evaluate alternative design treatments that could mitigate the occurrence of right-hook crashes.
Experiment 1 investigated motorist and environmental related causal factors of right-hook crashes, using three different motorist performance measures: (1) visual attention, (2) situational awareness (SA) and (3) crash avoidance behavior.
Data was collected from 51 participants (30 male and 21 female) turning right 820 times in 21 different experimental scenarios. It was determined that the worst case right-hook scenario occurred when a bicycle was approaching the intersection at a higher speed (16 mph) and positioned in the blind zone of the motorist. In crash and near crash situations (measured by time-to-collision) the most common cause was a failure of the driver to actively search for the adjacent bicyclist (situational awareness level 1), although failures were also determined to occur due to failures of projection (i.e. incorrectly assuming that the bicycle would yield or that there was enough time to turn in front of the bicycle). Elements of driver performance and gap acceptance collected in the first stage simulator experiment were field validated based on 144 hrs of video to provide additional confidence in the findings.
Biographical
Dr. Christopher M. Monsere is an Associate Professor of Civil and Environmental Engineering in the Maseeh College of Engineering & Computer Science at Portland State University. Dr. Monsere's primary research interests are in the areas of multimodal transportation safety; management and dissemination of large transportation datasets; and improvements in transportation operations. He is co-chair of the Transportation Research Board's Safety Data, Analysis, and Evaluation committee (ANB20), on the editorial board of Journal of Transportation Safety and Security, and a past member of the TRB Task Force to develop the Highway Safety Manual (ANB25T). Monsere received his BCE from the University of Detroit Mercy; his MSCE and Ph.D.with an emphasis in transportation from Iowa State University. Dr. Monsere is a licensed professional engineer in the state of Oregon.
Dr. David S. Hurwitz is an associate professor and group coordinator of transportation engineering in the School of Civil and Construction Engineering at Oregon State University. David also serves as the point of contact for the OSU Driving and Bicycling Research Laboratory. He conducts research in the areas of transportation user behavior, traffic control, transportation safety, driving & bicycling simulation, and engineering education. In particular Dr. Hurwitz is interested in the consideration of user behavior in the design and innovation of transportation systems.
Subjects
Cycling, Cyclists -- Safety measures, Urban transportation, Transportation -- Planning, Cycling accidents -- Surveys
Disciplines
Transportation | Urban Studies | Urban Studies and Planning
Persistent Identifier
http://archives.pdx.edu/ds/psu/18267
Recommended Citation
Hurwitz, David and Monsere, Christopher, "Towards Effective Design Treatment for Right Turns at Intersections with Bicycle Traffic" (2016). TREC Friday Seminar Series. 33.
https://pdxscholar.library.pdx.edu/trec_seminar/33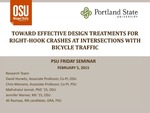 COinS