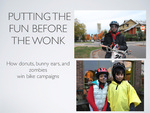 Description
The Community Cycling Center has been at the business of broadening access to bicycling for 22 years. Far before anyone was talking about "equity" in the world of bike commuting and advocacy, the Community Cycling Center was working directly with youth of color to make biking accessible. How have they been doing it? What have they learned?
Lillian Karabaic explains the secret to the Community Cycling Center's work to build bike capacity in underserved neighborhoods: bike fun. Many bike advocacy organizations look down at making bikes fun because they think it lowers the status of serious transportation to "recreation" or "toys". But the Community Cycling Center has realized that using fun is a great tool for building bridges among diverse populations. Learn about successes and challenges in this work in this presentation.
Biographical Information
Lillian Karabaic, Community Cycling Center development manager, thinks making biking more accessible for everyone is pretty awesome. In addition to working fund development and database magic at the Community Cycling Center since May 2014, you can find her flipping pancakes for commuters on the Hawthorne Bridge, producing the Bike Portland podcast, sitting on transportation committees, leading the Bowie Vs Prince bike dance party, and traveling across America to give talks about Portland's bicycle policy. She's previously worked for Oregon Walks, Go By Bike, and the Bicycle Transportation Alliance. She also serves on the board of the Harry Potter Alliance. Her best friend is her bright yellow Ahearne midtail bicycle, Dora.
Subjects
Bicycle commuting -- Social aspects -- United States, Urban transportation
Disciplines
Urban Studies | Urban Studies and Planning
Persistent Identifier
http://archives.pdx.edu/ds/psu/18207
Recommended Citation
Karabaic, Lillian, "Putting the Fun Before the Wonk: Using Bike Fun to Diversify Bike Ridership" (2016). PSU Transportation Seminars. 4.
http://archives.pdx.edu/ds/psu/18207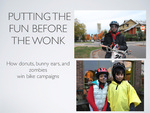 Included in
COinS