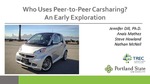 Description
Peer-to-peer (P2P) carsharing is a system where a facilitating company connects car owners to car renters. Such systems are relatively new in the U.S. This paper aims to understand who is participating in P2P carsharing as a renter (as opposed to as an owner), why they join, whether and how often they rent vehicles, and why. Exploring these questions may provide insight on the potential for P2P carsharing to meet public policy objectives of reducing the impacts of personal vehicle ownership and use and providing mobility options for underserved populations. The analysis is based on 465 study participants who enrolled in a P2P carsharing service in Portland, Oregon during its first two years of operation (February 2012 to June 2014). The data, which come from a series of online surveys, are part of an on-going, multi-year research project and, as such, should be considered early findings. The people who joined P2P carsharing and this study tend to be younger and well-educated, consistent with research on traditional carsharing. Given two trends in vehicle ownership – the longstanding positive correlation with income and the emerging trend of younger Americans eschewing vehicle ownership in greater numbers than before - we created a typology of potential P2P renters to explore reasons for joining and the potential influence of P2P carsharing on vehicle ownership and mobility. The typology consists of: (1) Student Millennials,(2) Non-student Millennials, (3) Lower Income Non-millennials, and (4) Higher Income Non-millennials. Study participants were highly motivated to join simply because they like the idea of P2P carsharing. Not surprisingly, the Higher Income Non-millennials were less motivated by economic reasons. By June 2014, just over half (52%) of the study participants had rented a vehicle through the service. Actual use of the service is negatively correlated with car ownership. There are some early indications that the service may be expanding mobility options for lower income households.
Biographical Information
Anais Mathez is a graduate student in Urban and Regional Planning at PSU. She moved to Portland, OR after completing her B.A. in Urban Systems at McGill University in Montreal, Quebec. As a research assistant under the supervision of Jennifer Dill and Nathan McNeil, her work focuses on travel behavior and user preferences as a result of emerging peer-to-peer carsharing networks. Past research has focused on mobility patterns, strategic parking policies and greenhouse gas emissions quantification for transportation. Anais is also a Planning Analyst for Cogan Owens Greene, supporting multi-modal transportation projects in the Portland region, and will be graduating this spring.
Subjects
Car sharing -- Oregon -- Portland -- Surveys, Automobile ownership, Automobiles -- Economic aspects, Cooperative societies -- Oregon -- Portland
Disciplines
Transportation | Urban Studies and Planning
Persistent Identifier
http://archives.pdx.edu/ds/psu/18420
Recommended Citation
Mathez, Anaïs, "Who Uses Peer-to-Peer Carsharing? Early Exploration" (2015). PSU Transportation Seminars. 93.
http://archives.pdx.edu/ds/psu/18420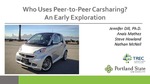 Included in
COinS