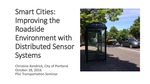 Description
The City of Portland is exploring how distributed "Internet of Things" (IoT) sensor systems can be used to improve the available data that is usable by city engineers, planners, and the public to help inform transportation operations, enable assessments of public health and equity, advance Portland's Climate Action Plan goals, and create opportunities for economic development and civic engagement.
The City is currently looking at how low-cost air quality sensors can be used to improve and increase real-time understanding of transportation-related pollutants. However, the state of low-cost air quality sensor technology is not usable off the shelf due to sensitivity limitations and interference issues.
This talk will share the results of a pilot evaluation study conducted by the Portland Bureau of Transportation (PBOT) along with background on other roadside air quality monitoring implemented as part of a joint research project between PBOT and Portland State University. Results and methods from this joint research project will help support the future development of distributed air quality monitoring.
Lastly, the talk will present a roadmap and discussion of how the City of Portland will move forward in creating an environmental distributed sensor system along a roadway corridor supported by several grants. The City of Portland will be developing standards for air quality data from low-cost devices and specialized guidelines to enable Portland and other cities to use low-cost air quality sensors. Through work with the Green Electronics Council, the City will also attempt to minimize the environmental impact of the manufacture and disposal of IoT sensors.
Biographical Information
Christine Kendrick is the Air Quality Lead and Smart Cities Project Manager for the City of Portland Bureau of Planning and Sustainability. She also works closely with the Portland Bureau of Transportation's Signals, Street Lighting, and ITS Division developing research objectives related to the deployment of low-cost air quality sensors. Christine has a PhD in Environmental Science and Resources with a focus on urban air quality from Portland State University. Her work investigates how the roadside environment can be improved through the use of air quality and traffic-related data. As part of her research she helped develop a research grade roadside air quality station at the intersection of one of Portland's major arterial roadways and conducted pilot studies to assess low-cost sensor performance and utility. Christine also has a background in toxicology research characterizing inhalation exposures to jet propulsion fuel and trichloroethylene air sampling in industrial and residential areas. She completed her BS in Environmental Health Science from the College of Public Health at the University of Georgia.
Subjects
Air -- Pollution -- Health aspects -- Oregon -- Portland, Automobiles -- Motors -- Exhaust gas -- Health aspects -- Oregon -- Portland
Disciplines
Health Policy | Urban Studies | Urban Studies and Planning
Persistent Identifier
http://archives.pdx.edu/ds/psu/18508
Recommended Citation
Kendrick, Christine M., "Smart Cities: Improving the Roadside Environment with Distributed Sensor Systems" (2016). PSU Transportation Seminars. 98.
http://archives.pdx.edu/ds/psu/18508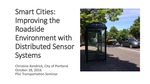 COinS