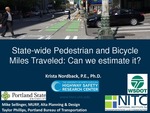 Description
Heard of Vehicle Miles Traveled (VMT)? Wouldn't it be great to know the corresponding value for walking and cycling?
This webinar discusses options for estimating the miles people walk and bicycle on the state-wide level, by investigating the practical considerations of trying to compute these values for one study state.
What strategies can be used, and what data sources do these require?
How do these strategies compare?
How do PMT/BMT estimates vary based on data?
Find out what researchers found and what obstacles they encountered when they tried to estimate bicycle and pedestrian miles traveled in the State of Washington.
Biographical
Krista Nordback, Ph.D., P.E. is a senior research associate at University of North Carolina Highway Safety Research Center, with eight years of experience focusing on bicycle and pedestrian traffic and safety. She earned her doctorate in civil engineering from the University of Colorado Denver, master's from University of Minnesota, and bachelor's from Massachusetts Institute of Technology. Her doctoral dissertation developed a new method for estimating bicycle traffic and provided one of the first safety performance functions for bicyclists at signalized intersections in the U.S. She has researched non-motorized traffic counting technologies and programs for Colorado, Washington, and Oregon DOTs and worked with the team at Portland State University on creating a national bicycle and pedestrian count archive, Bike-Ped Portal.
Subjects
Commuting -- Oregon, Cycling -- Oregon, Pedestrians -- Oregon, Automatic data collection systems
Disciplines
Transportation | Transportation Engineering | Urban Studies
Persistent Identifier
http://archives.pdx.edu/ds/psu/18764
Recommended Citation
Nordback, Krista, "Webinar: State-Wide Pedestrian and Bicycle Miles Traveled: Can We Estimate It?" (2016). TREC Webinar Series. 15.
http://archives.pdx.edu/ds/psu/18764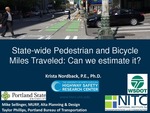 COinS