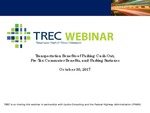 Description
The vast majority of employers provide their employees free parking at work, which encourages employees to drive alone. Multiple strategies exist to level the playing field between travel modes and allow employees to select the travel option most beneficial to them without suffering a financial penalty. The U.S. Department of Transportation, Federal Highway Administration sponsored a study to understand the effect parking cash out, pre-tax commuter benefits, and parking surtaxes can have on congestion, emissions, and other driving-related externalities. The study is part of the Administration's ongoing efforts to increase awareness of solutions to address the transportation issues affecting communities in the United States. The research was conducted in coordination with a peer review group made up of representatives from academic institutions and the public sector who provided guidance throughout the study process.
Cash-out programs have the potential to substantially reduce the rate at which people drive alone to work. But, they have not been implemented broadly. California and Rhode Island have parking cash-out laws, but they apply only to a small percentage of parking, and no city (outside of California) has a parking cash-out requirement. Recently, however, several cities, including Washington, DC, New York, and San Francisco have implemented ordinances requiring employers over a specific size to offer pre-tax transit benefits, and similar city-level ordinances related to parking cash out could be considered. This study conducts a city-level analysis to assess the potential impacts of six ordinances:
a requirement for employers that offer free parking to offer parking cash-out;
a requirement for employers that offer free parking to offer a tax-exempt commuter benefit (e.g., a transit, vanpool, or bicycle benefit);
an incentive to offer cash out on a daily basis;
a requirement for all employers to offer their employees the option to pay for transit and bicycle costs with pre-tax dollars;
a tax credit incentive for employers to drop the free parking benefit entirely and to offer an alternative tax-exempt commuter benefit; and
a tax on parking fees for peak-hour commuters.
Key Takeaways
The study suggests that these policies could result in notable reductions in employee vehicle travel, traffic congestion, and emissions. The webinar will include resources for individuals interested in determining the impact these strategies could have in their own cities/communities.
Biographical
James Choe is a transportation policy analyst with ICF, evaluating the impacts of local planning, transportation demand management strategies, and alternative transportation modes on pollutant emissions, public health, and other sustainability indicators. Mr. Choe has assessed the benefits and costs of numerous innovative approaches for reducing VMT and emissions, including parking and commuter benefit strategies, for federal, state, and local agencies.
Allen Greenberg has 25 years of experience in analyzing and advocating for sustainable U.S transportation policy at the national and regional levels from both inside and outside of government. As a senior policy analyst at the Federal Highway Administration (FHWA) for the past 17 years, Mr. Greenberg has played a leadership role with the Value Pricing Pilot Program, cultivating, developing, and managing transportation pricing pilot initiatives. Prior to joining FHWA, Mr. Greenberg spent two years at the U.S. Environmental Protection Agency (USEPA), where he directed the Transportation Partners Program, which provided grants and technical assistance to national not-for-profit organizations that promoted local transportation demand management initiatives. Mr. Greenberg has authored numerous peer-reviewed research papers and articles on PAYD insurance, parking pricing, and shared mobility. He holds a Master in Urban and Regional Planning from the University of Virginia and a Bachelor of Science in Public Policy and Management from Carnegie Mellon University.
Sonika Sethi, AICP is a transportation planner specializing in infrastructure finance and economics. She has supported several transportation providers with strategic funding decisions, financial planning for capital investments and evaluation of policies and grant programs. Ms. Sethi has led complex studies involving analytical methods of project prioritization, evaluation of benefits and costs of investments, performance-based funding allocation, toll financial planning and fiscal impacts analysis. Ms. Sethi also supports the Federal Highway Administration on research in the areas of congestion pricing and connected and autonomous vehicles.
Colleen Stoll is the Transportation Demand Management Program Manager for the City of Santa Monica. The TDM program proactively manages congestion, improves air quality, and reduces automobile dependence in Santa Monica. It requires annual trip reduction plans from developers and employers with 10 or more employees. When Santa Monica started the TDM Program over twenty years ago, the number of solo drivers driving to work was 80%. Today, that number has been reduced to 62% in the mornings, and 58% in the afternoons. Last year, that translated to over 12,300 fewer car trips per day.
Subjects
Transportation demand management, Central business districts -- Parking, Transportation -- Planning
Disciplines
Transportation | Transportation Engineering | Urban Studies
Persistent Identifier
http://archives.pdx.edu/ds/psu/22135
Recommended Citation
Greenberg, Allen; Choe, James; Sethi, Sonika; and Stoll, Colleen, "Webinar: Transportation Benefits of Parking Cash-Out, Pre-Tax Commuter Benefits, and Parking Surtaxes" (2017). TREC Webinar Series. 23.
http://archives.pdx.edu/ds/psu/22135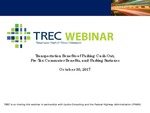 COinS