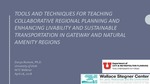 Description
Small towns and cities outside of national parks and other major natural amenities throughout the western United States are becoming increasingly popular places to visit and live. As a result, many of these gateway and natural amenity region (GNAR) communities—including places such as Jackson, Wyoming, and Moab, Utah—are facing a variety of "big city" issues, such as severe congestion, lack of affordable workforce housing, and concerns about sprawl and density. This webinar will introduce the planning and transportation concerns being experienced by GNAR communities throughout the west. It will then share the tools and resources developed by the University of Utah to train planners to work in these unique communities and to help these communities enhance livability and sustainable transportation options. The webinar will also introduce the University of Utah's new Gateway and Natural Amenity Region Initiative and ongoing research aimed at better understanding and addressing the planning and transportation issues in GNAR communities.
Key Takeaways
Many small western communities near major natural amenities, such as national parks, are experiencing "big city" planning and transportation challenges.
Professional and academic planners need to pay far greater attention to these GNAR communities and to helping them effectively plan for and respond to the planning and transportation challenges they face.
The University of Utah has developed a range of tools and resources aimed at training planners to work in these communities and assisting these communities in tackling the challenges and opportunities they face. We hope other will use and build on these tools and resources.
There are considerable opportunities for further research, education, and capacity building efforts aimed at understanding and addressing the transportation and planning needs of GNAR communities.
Biographical
Danya Rumore, Ph.D., is the Director of the Environmental Dispute Resolution Programin the Wallace Stegner Center and a Research Assistant Professor in the S.J. Quinney College of Law at the University of Utah. She is also a Research Assistant Professor in the University of Utah Department of City and Metropolitan Planning. She teaches courses in negotiation and dispute resolution and is a research affiliate of the University of Utah Center for Ecological Planning and Design and Global Change and Sustainability Center. Danya's work and research focus on supporting collaborative decision-making and stakeholder engagement in the context of science-intensive environmental issues and complex public policy challenges. She is currently developing an initiative to better understand the unique planning challenges facing small communities in gateway and natural amenity regions in the Mountain West, and to provide planning support and capacity building for these regions.
Subjects
Low-income housing -- United States, Community development -- United States, Rural development -- United States -- Planning
Disciplines
Urban Studies | Urban Studies and Planning
Persistent Identifier
http://archives.pdx.edu/ds/psu/25034
Recommended Citation
Rumore, Danya, "Webinar: Tools and Techniques for Teaching Collaborative Regional Planning and Enhancing Livability and Sustainable Transportation in Gateway & Natural Amenity Regions" (2018). TREC Webinar Series. 28.
https://pdxscholar.library.pdx.edu/trec_webinar/28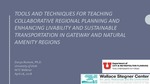 Included in
COinS