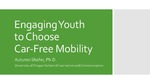 Description
Today's youth are tomorrow's riders, bikers, walkers, voters, and transportation planners. As more transit agencies begin to offer free fare passes to public middle and high school students, it is important to have good communication strategy in place to encourage transit usage so they don't miss out on the potential to affect behavior change.
Thus, transit agencies need to develop age-appropriate messaging strategies and tactics that promote youth car-free mobility.
This webinar will present results from a NITC research project that sought to create and evaluate communication messaging that fosters more positive attitudes, intentions, and behaviors related to transit and other car-free transportation options among Portland youth. While there is no "one size fits all" approach, the Portland-based findings may yield insights that could be adapted for application in other regions.
Biographical
Autumn Shafer is an assistant professor in the University of Oregon's School of Journalism and Communication. Her research seeks to address important social, theoretical, and practical issues related to public health promotion and social issues advocacy. She has a student-centered approach to teaching and seeks to create a collaborative and inclusive classroom environment where students feel both challenged and supported as they learn. Her research has included grant-funded projects examining the effects of entertainment education on teen pregnancy, developing a sexual consent awareness campaign, encouraging parents of children with eating disorders to take care of themselves to prevent caregiver fatigue, and cervical cancer prevention through the promotion of HPV vaccines. Shafer's professional experience includes being a political campaign manager, field director, and legislative aide in Washington state.
Subjects
Transportation -- United States, Land Use -- Planning -- Citizen Participation, Community Development -- Oregon -- Portland
Disciplines
Transportation | Urban Studies | Urban Studies and Planning
Persistent Identifier
https://archives.pdx.edu/ds/psu/28753
Recommended Citation
Shafer, Autumn, "Webinar: Engaging Youth to Choose Car-Free Mobility" (2019). TREC Webinar Series. 38.
https://archives.pdx.edu/ds/psu/28753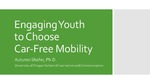 COinS