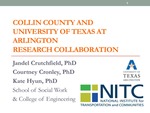 Description
This study used a community-engaged interdisciplinary approach to assess the gaps between economic growth and transportation infrastructure development, and the impact of potential gaps on access to opportunities for environmental justice populations within North Central Texas, where population growth has increased over 100% since 2000.
The interdisciplinary team, comprised of social work and civil engineering researchers, in partnership with the regional homeless coalition, measured residents' perspectives of:
the economic growth in the area over the past decade,
the extent to which transportation infrastructure has matched the economic growth, and
the implications for access to affordable quality housing, employment, quality public education, as well as engagement in cultural and social activities.
The team utilized a mixed-methods (focus groups and survey data), exploratory design to collect responses from a diverse sampling frame. The study results produced an infrastructure profile for the region, in which increased infrastructure from toll ways have improved job and population density, but with major challenges for usage of public transit.
The results can inform public policies that support targeted transportation infrastructure development. Moreover, study results can inform the knowledge base regarding the relationship between economic growth and transportation infrastructure and how to improve their co-development, with a particular emphasis on the planning needs of environmental justice populations.
This webinar is based on a study funded by the National Institute for Transportation and Communities (NITC) and conducted at the University of Texas at Arlington. Read more about the NITC research: Promoting Environmental Justice Populations' Access to Opportunities within Suburban Boomtowns.
Biographical
Jandel Crutchfield, University of Texas at Arlington
Dr. Jandel Crutchfield is an assistant professor in the School of Social Work at the University of Texas at Arlington. Prior to her academic career, Dr. Crutchfield worked as a licensed clinical social worker in Mississippi and Louisiana schools. In addition she has served as a counselor in community mental health, in-home counseling, and residential treatment settings. Dr. Crutchfield earned her B.A. in Psychology from Washington University in St. Louis. She earned her Master of Social Work from the Florida State University College of Social Work. Dr. Crutchfield earned her PhD in social work from Louisiana State University. Her research focus is designed to understand the stagnation in disparities for vulnerable people of color by not only examining cases describing the lived experiences of vulnerable people of color, but also through examining institutional, societal, and individual level bias that contributes to disparities, and finally, the need for better training in cultural engagement for those professionals working in any system with vulnerable people of color. UT Arlington's strategic focus on health and the human condition encapsulates my research focus as the goal is to better the lived experiences of vulnerable people of color.
Kate Hyun, University of Texas at Arlington
Dr. Kate Hyun is an Assistant Professor in the Department of Civil Engineering at the University of Texas at Arlington (UTA). Her research centers on big data analytics using Intelligent Transportation Systems technologies for various applications including community mobility modeling, traffic monitoring and operation, freight transportation planning, safety, and travel behavior study. Dr. Hyun received her PhD from the Department of Civil and Environmental Engineering at University of California, Irvine in 2016. As a part of her doctoral research, she used advanced sensor technology to better monitor traffics and operate highway systems.
Disciplines
Transportation | Urban Studies | Urban Studies and Planning
Persistent Identifier
https://archives.pdx.edu/ds/psu/32709
Recommended Citation
Crutchfield, Jandel and Hyun, Kate, "Webinar: When Growth Outpaces Infrastructure: A Community-Engaged Assessment of Transportation Gaps" (2020). TREC Webinar Series. 46.
https://archives.pdx.edu/ds/psu/32709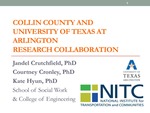 COinS