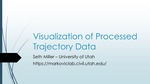 Description
This webinar will demonstrate the tremendous value of GPS trajectory data in understanding statewide travel patterns and measuring performance. First, Dr. Markovic (U of Utah) will conduct visual exploration of GPS trajectories that capture about 3% of all the trips in Utah. He will briefly discuss the problem of scaling GPS trajectories to the population, and then focus on the use of scaled trajectories in computing origin-destination matrices, vehicle-hours delays, vehicle-miles traveled, and trip-based performance measures. Second, Dr. Franz (CATT Lab) will demonstrate a suite of visual analytics that enables transportation agencies to easily explore terabytes of GPS trajectory data. He will demonstrate different tools and share the experience of 5 state DOTs that are currently using CATT Lab's trajectory data suite.
Biographical
Nikola Markovic, University of Utah
Nikola Markovic is an assistant professor of transportation engineering at the University of Utah. His research focuses on visual analytics and operations research. Before joining the University of Utah, he worked at the Center for Advanced Transportation Technology (CATT).
Mark Franz, University of Maryland CATT Lab
Mark is the Lead Transportation Analyst at the Center for Advanced Transportation Technology Laboratory (CATT Lab) at UMD where he is developing and improving online transportation performance measures, analysis tools and visualizations for public and private sector clients. Mark has 10+ years of experience in traffic safety and operations, big data, performance measurement, and data visualization.
Seth Miller, University of Utah
Seth Miller is a Ph.D. student and a graduate assistant in civil engineering at the University of Utah.
Disciplines
Transportation | Urban Studies | Urban Studies and Planning
Persistent Identifier
https://archives.pdx.edu/ds/psu/32710
Recommended Citation
Markovic, Nikola; Franz, Mark; and Miller, Seth, "Webinar: Visual Exploration of Trajectory Data" (2020). TREC Webinar Series. 47.
https://archives.pdx.edu/ds/psu/32710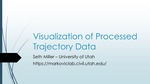 COinS