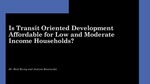 Description
Transportation and land use planning, as a field, is shifting away from segregated uses connected by highways and streets to more compact, mixed-use developments connected by high-quality transit. This new paradigm has brought special attention to transit-oriented developments (TOD), which are sometimes touted as being among the most affordable, efficient places to live. But how affordable are they, and who has the power to effect change? This study examines housing costs for households living in TODs.
Biographical
Reid Ewing is a Distinguished Professor of City and Metropolitan Planning at the University of Utah, associate editor of the Journal of the American Planning Association, and columnist for Planning magazine. His 10 books include Pedestrian and Transit-Oriented Design, co-published by the Urban Land Institute and American Planning Association; Growing Cooler: Evidence of Urban Development and Climate Change, published by the Urban Land Institute; and Best Development Practices, listed by the American Planning Association (APA) as one of the 100 "essential" books in planning over the past 100 years. Ewing's research focuses on the built environment at five different scales and its impacts on quality of life. He has studied the built environment at scales ranging from the individual block and pedestrian activity, to the MXD and internal capture, to the metropolitan region and mode shares.
Justyna Kaniewska is a second year student in the Master of City and Metropolitan Planning program at the University of Utah. She graduated from Mount Holyoke College and holds an MBA degree from INSEAD. She has experience of working both as a business management consultant for McKinsey & Company and an independent developer. She is originally from Poland but worked on projects in Latvia, Czech Republic (Brno and Prague), Italy (Milan and Bologna), Singapore, France (Paris), Romania (Sibiu and Bucharest), and Israel (Tel Aviv). She plans to enter a Ph.D. program next fall.
Disciplines
Transportation | Urban Studies | Urban Studies and Planning
Recommended Citation
Ewing, Reid and Kaniewska, Justyna, "Webinar: Is Transit-Oriented Development Affordable for Low and Moderate Income Households?" (2022). TREC Webinar Series. 63.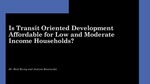 COinS