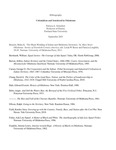 Description
The assault in Tulsa was one in a series of attacks by whites on black people and communities in this period, like the Arkansas Race Riot of 1917 and the Chicago Race Riot of 1919. In some ways, these attacks expressed the extreme nationalism and general xenophobia of the World War I era. However, the sources of inequality and racial violence have a deep history. The state of Oklahoma is sharply divided by the legacies of colonialism, slavery, and segregation. This bibliography features books and articles by historians that describe the story of Native Americans, African Americans, and European Americans in a fraught but often overlooked region of the United States.
Subjects
Tulsa Race Massacre -- Tulsa Oklahoma 1921 -- Press coverage -- Oklahoma -- Tulsa, African Americans -- Violence against -- Oklahoma -- Tulsa -- History -- 20th century, Racism -- Oklahoma -- Tulsa -- History -- 20th century, Tulsa World -- Tulsa (Oklahoma) -- Race relations -- History -- 20th century, Riots -- United States -- History -- 20th century, Greenwood (Tulsa, Okla.)
Disciplines
African American Studies
Persistent Identifier
https://archives.pdx.edu/ds/psu/36429
Rights
This work is licensed under a Creative Commons Attribution-NonCommercial-ShareAlike 4.0 International License.
Recommended Citation
Schechter, Patricia A., "Colonialism and Statehood in Oklahoma (Bibliography)" (2021). The Tulsa Race Massacre: Teaching and Learning Resources. 4.
https://archives.pdx.edu/ds/psu/36429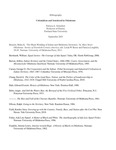 Included in
COinS