Volume 13, Issue 2 (2018) The Complex Task of Teacher Development
Preparing teachers for the complexities of today's classrooms presents unique challenges. Each teacher enters the work with their own background, experiences, and learning styles. Mentorship is an important way to support teachers in their learning and development. In this issue of NWJTE, the editors are thrilled to share articles that contribute to the myriad of ways teachers--both preservice and inservice--can be supported in their learning.
The issue begins with content-specific mentoring. Amanda T. Sugimoto shares her research on how preservice teachers develop and use mathematical discourse, allowing student teachers to understand the role of language in mathematical learning. Kimberly K. Ilosvay and Elise Pepe share their research on literacy learning and the various ways instructional practices are implemented based on how teachers define literacy and the supports received within their teaching contexts.
The final three articles address mentoring across content and grade levels: Christina C. Pfister and Sophia Paljevic share their work of introducing a critical confidant into the support structure for teacher candidates, in addition to the standard cooperating teacher and supervisor. Their teacher candidates found important value in receiving support from someone who was not in an evaluative role. Melanie Pavao's literature review of the necessary conditions for strong mentorship connects to current policy measures--some that are in place and others that can be strengthened. And, building on the theme of mentorship, Dr. Marvin Lynn and teacher/activist Chris Riser engage in a cross-generational conversation about activism and being a Black male educator. They provide advice for other teachers of color entering the profession.
Articles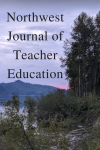 Maika J. Yeigh, Ed.D
Assistant Professor, Portland State University