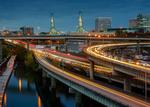 Abstract
This event, the first in a new series of talks on urban design, brought together Elizabeth Timme and Anyeley Hallová for a conversation on housing justice, design, development, and the prospects for an equitable densification of our cities.
Recent changes to Oregon's zoning legislation with HB2001 and HB2003 effectively eliminate exclusive single-family zoning in many cities in the state, while Portland's Residential Infill Project goes even further in its support for new multifamily housing options in all areas of the city. These initiatives have the potential to reshape the housing landscape of the region and drive a national conversation on housing policy and design. The city of Los Angeles, for one, has responded with the Accessory Dwelling Unit (ADU) Standard Plan Program of pre-approved low-cost designs for that backyard housing type and have recently hosted a design ideas competition for "Low-Rise" housing innovation.
Biographical Information
Timme is a co-founder of LA Más, a non-profit architecture and design firm from Los Angeles that promotes neighborhood resilience and elevates the agency of working class communities of color. The office has worked against gentrification by incentivizing ADUs as an alternate housing program. Hallová is a Portland-based developer with over 17 years of experience who recently founded Adre, a real estate development firm that seeks to create wealth for the Black community and for underrepresented groups that have traditionally been denied access to real estate ownership and investment. Hallová is also a commissioner on Oregon's Land Conservation and Development Commission (LCDC).
The conversation was moderated by Justin Fowler, Director of the Portland Architecture Program at the University of Oregon School of Architecture & Environment.
Subjects
City planning -- Oregon -- Portland, City planning -- California -- Los Angeles, Social justice, Minorities -- Housing, Homelessness, Discrimination in housing, Rental housing, Congregate housing, Infill housing, Low-income housing
Disciplines
Architecture | Inequality and Stratification | Race and Ethnicity | Social Justice | Social Welfare | Urban, Community and Regional Planning | Urban Studies and Planning
Recommended Citation
Timme, Elizabeth; Hallová, Anyeley; and Fowler, Justin, "Portland in Conversation: The Infrastructure of the Public City: Housing | Los Angeles I Portland" (2021). Portland in Conversation. 1.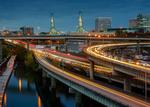 COinS