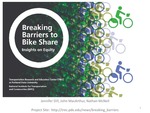 Description
While the number of public bike share systems in the United States grew considerably in recent years, early evidence indicated that many systems were not serving the diverse populations of cities, particularly lower-income residents and people of color. Lack of bike share stations in neighborhoods with people of color and/or lower incomes is one factor; however, considerable disparities appear to persist even when stations are placed in these communities.
Efforts to overcome access and use barriers (such as cost, payment options, and familiarity with the system) to bike share for underserved communities have been initiated in a number of cities. The Better Bike Share Partnership (BBSP) has been working with cities around the country to launch and test potentially replicable approaches to improve the equity outcomes. These have included focused outreach efforts and bike share investments in low-income and underserved communities in several cities.
This webinar discusses findings from a survey of people living in lower-income communities of color in Philadelphia, Chicago, and Brooklyn, including many people who are not currently using bike share. These neighborhoods were targeted for outreach related to BBSP programs, and all have bike share stations. The research sought to better understand perceptions and attitudes toward bicycling and bike share, along with the barriers to and opportunities for expanding the use of bike share in traditionally underserved neighborhoods. Findings provide insight into what strategies can be effective in attracting new and diverse users, and what benefits bike share can offer these potential participants.
Biographical
Nathan McNeil is a research associate at the Center for Urban Studies at Portland State University. He conducts research around impacts of new bicycle infrastructure and programs on travel behavior and attitudes towards cycling, shared-use mobility programs including carsharing and bike-share, and the connection between land-use and transportation. Nathan received a Master of Urban and Regional Planning from Portland State University, and studied history at Columbia University as an undergraduate. Prior to PSU, McNeil worked for the Metropolitan Transportation Authority (MTA) in New York City as a performance auditor where he evaluated capital programs and contractors.
Jennifer Dill is a Portland State University professor and the director of TREC. She teaches courses in transportation policy, pedestrian and bicycle planning, and research methods. Her research interests focus on the interactions of transportation planning, travel behavior, health, the environment and land use. In general, she is interested in answering these questions: How do people make their travel and location decisions? How do those decisions impact the environment? How do our planning decisions impact people's travel and location decisions? Prior to entering academia, she worked as an environmental and transportation planner.
John MacArthur is the principal investigator in the current e-bike research at Portland State University. He's been the Sustainable Transportation Program Manager at TREC of PSU since 2009 and has undertaken several research projects involving low-/no-emission vehicle infrastructure in Portland metro area, as well as a climate change impact assessment for surface transportation in the Pacific Northwest and Alaska. Before joining the TREC staff, John was the Context Sensitive and Sustainable Solutions Program Manager for the OTIA III State Bridge Delivery Program. He earned a B.S. in Civil Engineering from Lehigh University and an M.S. in Environmental Health Sciences from the University of Michigan's School of Public
Subjects
Bicycle commuting, Transportation -- Social aspects, Bicycle sharing programs
Disciplines
Transportation | Urban Studies | Urban Studies and Planning
Persistent Identifier
http://archives.pdx.edu/ds/psu/21098
Recommended Citation
McNeil, Nathan; Dill, Jennifer; and MacArthur, John, "Webinar: Breaking Barriers to Bike Share: Insights on Equity" (2017). TREC Webinar Series. 20.
http://archives.pdx.edu/ds/psu/21098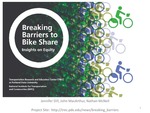 COinS