Volume 12, Issue 2 (2017) The Art of Listening
Cultivating Care & Concern
In Teaching to Transgress, bell hooks reminds us that "our capacity to generate excitement is deeply affected by our interest in one another, in hearing one another's voices, in recognizing one another's presence." In this sense, the classroom is a space of recognition and response, of care and concern. This care goes beyond the walls of the traditional classroom, however. As K-12 education increasingly extends beyond the physical boundaries of the classroom and school building, new and different communities of care are being formed. In these new situations, how ought teachers and students respond to each other? How ought they respond to themselves? What does it look like to "recognize another's presence" when the place-based divisions between self and other are being dismantled?
The authors included in this issue of The Northwest Journal of Teacher Education are each in their own way exploring the ideas of hearing and being heard in non-traditional educational settings. In our first article, Rottmann & Rabidoux unpack the power of service learning as a means of helping pre-service teachers confront and respond to social injustice in the classroom. This is followed by Lock, Eaton, and Kessy's exploration of how teachers of online K-12 courses can foster their students' self-regulation. In our third article, Aleccia recommends that future teachers look toward the profession with intention. Next, in our fourth article, Kelly highlights the need for responsive professional development that is designed with the needs of adult learners in mind. Finally, the issue closes with Yeigh, Villagomez, Lenski, McElhone, and Larson's study of language-arts teachers struggling to make their professional judgment heard over the roar of top-down policy mandates.
For this issue, we hope (re)exploring the varied ways we collectively cultivate an ethos of care and concern in our classrooms and communities inspires our essential roles as educators. Further, we hope our issue launches inspiration in the ongoing effort to create the schools and communities we all want—inclusive, safe, healthy, generative and transformative.
Articles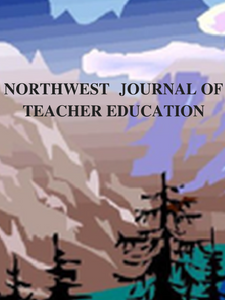 Editors
Editor Title

Jeremy Delamarter, Northwest University

Editor Title

Francene Watson, Washington State University

Editor Title