Volume 15, Issue 1 (2020) A Careful Eye to the Future
Educators have always had the dual role of balancing "now" with "next year" and this issue of Northwest Journal of Teacher Education reflects that tension. Uncertainty has reigned in all aspects of education since the COVID-19 pandemic, yet educators continue to serve students and look toward the future. Volume 15, Issue 1 reflects on the "now" of our educational world while also bringing forward research for the future of teacher education.
In the first three articles, we share initial reflections from educators about how they are grappling with the chaos caused by COVID-19. In the first article, COVID-19, Equity and the Future of Education, teacher candidates Shayna Glenn, Kadee Kall, and Kate Ruebenson discuss issues of equity in the virtual school setting. Next, Jake Carlsen, Eric Jensen, and Anna Krytenberg share their concerns about who has access to learning in Pandemic and Education. They express their hopes for creating systemic change as new teachers. In Responding to Student Teachers' Fears: How We're Adjusting during the COVID-19 Shutdowns Jeremy Delamarter and Mary Ewart share their experiences as teacher educators supporting teacher candidates during stressful and ambiguous times.
Moving toward the future, Matt Ridenour's article Teachers Are: Analyzing the Metaphors of Preservice Teachers shares research on the importance of considering the metaphors teacher candidates choose to describe themselves and what their choices show about their stance and identity in the classroom. In Content Area Literacy: The Effects of Focusing on Preservice Teachers' Literacy Identities Heather Pule provides insight into how providing positive literacy experiences for teacher candidates increases their use of literacy in their classrooms. Alex P. Davies, Donita Grisson, and Michele Regalla help teacher candidates consider the needs of students with a variety of EL proficiency levels in A Study on Teacher Candidates' Questioning Strategies for English Learners through an Interactive Classroom Simulation. And, considerations about performance assessments are always in our thinking. Chelsea Mabie considers edTPA in Oregon with her manuscript Not So Different After All: Examining the Shift from Oregon Teacher Work Sample Methodology to edTPA.
Teenagers in my life have grimly noted that—due to school closures—this was the first April in many years that there were no school shootings in the United States. However, we can assume that schools will resume at some point and school safety will continue to be important. Cynthia Johnson's article School Safety Assessment: Responses from School Principal Interns provides guidance for principal preparation programs.
As always and especially now, we hope that the Northwest Journal of Teacher Education supports your important work and careful thinking. Regardless of context, it is clear that educators are concerned about our students—of all ages—and carefully eyeing the future.
With appreciation,
Maika Yeigh, co-editor
Articles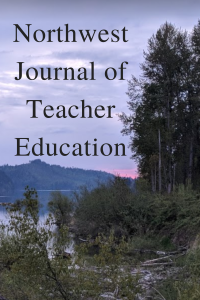 Editors
Maika J. Yeigh
Jeremy Delamarter
Francene Watson