The Northwest Journal of Teacher Education is the peer-reviewed journal of the Northwest Association of Teacher Educators. NWJTE publishes original contributions from teacher educators, teachers, teacher candidates, and other stakeholders interested in the exchange of ideas related to teacher education. NWJTE offers thoughtful, innovative, and practical ideas grounded in research. At the heart, NWJTE is written for educators by educators.>
See the Aims and Scope for a complete coverage of the journal.
Current Issue: Volume 13, Issue 1 (2018) Joyous Work: Improving Practice & Recharging Ourselves
Teachers have a funny sense of year --our year doesn't start and end with the calendar. Instead, we look toward the "start of the year" in August and the end of the year in June. This gift of shifted time allows educators a natural place to stop and reflect, to think back across the year to consider what went well and what can be changed moving forward; within that reflection time, we also recharge and prepare to work our hardest once again when the fall comes back around.
Canadian musician Gregory Hoskins' term joyous work comes to mind when I think of teaching: It can be both bruising and beautiful; educators can be both fragile and strong. But it is the joyous part that keeps us returning each year to work hard once again.
In this issue, we celebrate a year of learning, the reflections back over the learning we have had, and remind ourselves about taking much-needed time to recharge. It has been joyous work, indeed, reading the offerings from teachers and teacher educators from across the Pacific Northwest. The issue begins with two pieces focused on educator collaboration to deepen learning--both teacher and student. Sean Agriss' project connected educators at the university, community college and high school levels to develop common understandings to support their collective students. Susan Lenski, Nicole Rigelman, Anita Bright, Gayle Thieman, and Bernd Ferner share their research around lesson study, a method they used to learn more about their own instructional practices in a way that mirrored the expectations they had for their own teacher candidates. Next, Deanna Chappell Belcher shares her work with the Inside-Out Prison Exchange Program--which fostered truly reflective learning for her students, both those who were incarcerated and those who were not. Of course, as an instructor, her learning was also deeply impacted as part of the interactions. Krista James shares her analysis of how the Alaska Cultural Standards can be used in conjunction with principles of Universal Design for Learning in supporting an emancipatory education for Indigenous Alaskan students. New teacher Bailey Ellis-Wiard shares a reflective essay about how she holds onto her beliefs within a larger educational system that, at times, can feel constrictive. Lina Darwich shares powerful ways that she supports her own renewal while also building in time for renewal for her teacher candidates, reminding teachers at the very cusp of their career that caring for self is an important part of career maintenance. And, Kimberly Campbell takes us forward into next year with ideas for reinventing Back-to-School Night, including how her teacher candidates have brought their personalities to a traditionally impersonal event in new and invigorating ways.
We hope this issue inspires you to reflect on your teaching year, consider ways you can rejuvenate this summer, and rebuild an excitement for another year of truly joyous work.
Articles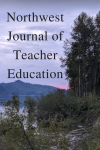 Call For Manuscripts.
Becoming a teacher entails more than merely earning a certificate or getting a job. Instead, it involves being drawn into a community of practice, moving from what Lave and Wenger refer to as "legitimate peripheral participation" to the centermost parts of the teaching endeavor. In this sense, teacher education resembles old-world apprenticeship models, in which the newcomer is guided into the profession by an "old-timer," a seasoned expert who has mastered all the elements of his or her craft.
Given the importance of mentoring in inducting new members into the teaching fold, this issue of The Northwest Journal of Teacher Education is devoted to exploring the roles of mentors at all levels of education. Submissions are invited to consider the following questions: To what extent is mentoring a culturally-specific activity? How might cross-cultural mentoring be made effective? Who mentors the mentors? How does mentoring change as the mentees gain experience? What does mentoring look like in a K-12 classroom? How does it differ from teaching? How should we evaluate mentoring? How might mentors and administrators best work together to support newcomers? How have popular representations of mentors/mentoring influenced teachers' conceptions of the mentoring process? How might potential mentors be effectively identified and recruited? In addition to these questions, the NWJTE is interested in stories of mentoring, particularly from voices often under-represented in academic literature: student-teachers, mentor teachers, and university field supervisors. Furthermore, we welcome the voices of mentors from underrepresented settings, such as tribal schools and small rural district. Finally, we are seeking submissions from those who bring perspective on the topic of mentoring as a social justice activity.
Submission deadline: August 15, 2018 for fall 2018 publication.